2019 Update: On the hunt for the best work pants? We just did a roundup of the best pants for work in 2019, including a ton of washable, stretchy options!
Ok, ladies, let's hear it: which are the best work pants? I've seen many readers bemoaning the decline in old favorites like the Banana Republic Sloan and the Gap Perfect Trouser — and other popular pants, like the J.Crew Minnie ankle pant, just aren't formal enough for more conservative offices. So let's discuss. First, here's Reader A's question:
I have loved the Gap Perfect Trouser pants for work — they are far and away the best fit for my body type (the thighs were roomy enough, I liked the leg opening width, and the short inseam option). However, the quality of these pants has deteriorated in the last couple of years. When I looked online recently, the reviews have dropped a ton as well, with a lot of comments that the fit has changed.
Do you have any suggestions for similar fit of pants? On top of this, I recently had my first baby, so in addition to some body changes, I don't have as much time to shop for pants now, and online shopping seems like taking a shot in the dark.
Any tips would be appreciated.
Oi. We've rounded up washable pants for work recently-ish (March); as I noted in our lightweight pants for summer roundup a few months ago, full-length trousers have been getting harder and harder to find. (The bootcut and flared look is back for denim, though, so hopefully work pants will follow suit shortly!) Some affordable possibilities for you: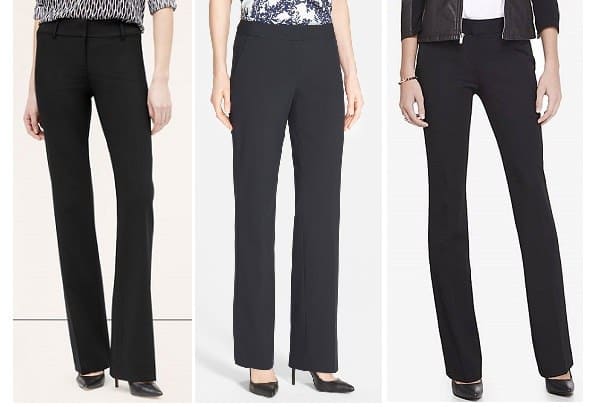 Plus-sizes, talls, and petites: which are your favorite pants? Ladies who spend a bit more for pants (e.g., Theory, Brooks Brothers), which are your favorite basic pants for work?