We've rounded up the best wide-leg pants to wear to work, and discussed the latest toe shapes for work outfits, but we haven't talked about the best shoes to wear with wide-leg pants. So let's get into it!
Readers, what are you favorite shoes to wear with wide leg pants? Here are some of my thoughts…
The Best Shoes to Wear with Wide Leg Pants
It can be tricky to know what shoes to wear with wide-leg pants. After all, ankle pants for work were so easy because you didn't need to worry about tripping on your hem, and you could easily switch between flats, heels, and boots.
Wide-leg pants can be a bit different — how they are hemmed is crucial, and the best shoes to wear with them are shoes that you intended to wear when you hemmed the pants.
If you want to wear flats with your wide-leg leg pants, then great — but you should take the shoes with you when you want to get your pants tailored. You can still switch between different pairs of shoes, such as commuting in sneakers, then switching to a pointy-toe flat or a very low pointy-toe heel at the office — I always thought kitten heels worked great with pants I had hemmed to wear with flats.
If you prefer to wear your wide-leg pants with heels, again, great, but make sure you take the exact pair with you to get them hemmed, because there can be a lot of difference between a 1″ heel and a 4″ heel. You can still commute comfortably with wide-leg pants altered for heels, such as by wearing a shoe with a platform, whether it's platform sneakers, wedge sneakers, or "comfort shoe" brands like FLY London, Dansko, Eileen Fisher, and Børn.
Overall, the best toe shape to wear with wide-leg pants is a pointy-toe shoe, whether it's a flat, heel, or boot. (Square-toed sandals were also styled with a lot of wide-leg pants, but sandals are not appropriate for every office, so know yours!)
Which Shoes Should You Not Wear with Wide Leg Pants?
For my $.02, I would not wear round-toe shoes with wide-leg pants, and I think even almond-toe shoes can look a bit dowdy. Square-toe shoes might work but that's highly dependent on the exact shoe you're wearing. I tend to think that a square-toe shoe that has an elongated toe box (but a squared-off tip instead of a pointy tip) would look the best. (There are some Tory Burch loafers that come to mind here!)
In general, be careful if you're wearing a skinny, stiletto heel with wide-leg pants — if you have a wide hem in your pants your heel may get caught on your hem. (Ask me how I know.)
Can You Wear Loafers with Wide Leg Pants?
You could do this, but in general loafers look best with cropped wide-leg pants — if they are full-length pants, I think loafers only work if you have a pointy toe or other elongated toe box.
(You can, of course, wear comfortable loafers on your commute if the hem length works with the shoes.)
Can You Wear Mules with Wide Leg Pants?
You absolutely can wear pointy-toe mules with wide-leg pants, but note that because the shoe has no back, you may end up getting the back hem caught under your foot while walking. (Maybe this is a me problem, though? Hmmn.)
Can You Wear Sneakers with Wide Leg Pants for Work Outfits?
If your pants are hemmed correctly for your sneakers, absolutely — but keep in mind that sneakers are not appropriate for every office, so know yours. I've seen bright white sneakers styled with wide-leg pants, as well as Converse or other classic sneakers. (We just rounded up a bunch of bright white sneakers for work outfits!)
Personally, I think low-profile sneakers look best styled with wide-leg pants, as opposed to big, chunky athletic shoes. (Put the Hokas away, in other words.)
How to Hem Wide Leg Pants
Wide-leg trousers should be hemmed so that, while standing straight, the bottom back of your pant ends about a half-inch above the floor; in the front, the hem of your pant should hit around the toe box. Depending on drape and fabric, they might have a break in them or they might not.
The goal is to avoid having them too short — the top of your foot closest to your ankle should not be showing. You also want to avoid them being too long, though — in addition to you looking like you don't know that tailors exist, your pants are going to get incredibly dirty and worn, incredibly quickly.
Two other pieces of advice for tailoring wide-leg pants: If you plan to throw your pants into the dryer, you may want to wash and dry them before you get them hemmed, just in case there's some shrinkage.
The other piece of advice is that if you don't like the pockets on your wide-leg pant, you can sew them down. Personally I've never been a fan of slant pockets or on-seam side pockets because they end up making me look incredibly hippy, so I've always sewn most of the pockets shut. In theory you could cut the pocket out entirely so it doesn't get bunched up inside your pant, but I've never had a problem just manually smoothing out the pocket.
Some of Our Favorite Latest Wide Leg Pants
Hunting for more wide-leg pants to wear to work? We just rounded some up — general favorites include pleated pairs like Favorite Daughter, Everlane*, Reformation*, and Abercrombie*, with flat-front pairs from Good American,* M.M.LaFleur, and Ann Taylor. (* = plus sizes; see the post for notes on petites and talls). Latest favorites include these (as of Sept. 2023):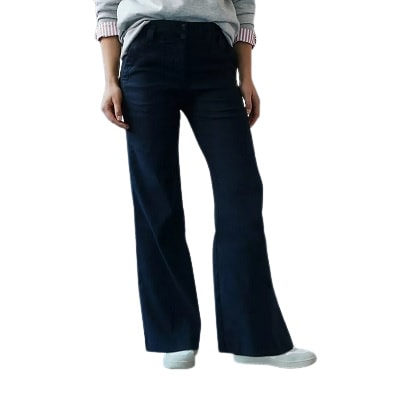 Some of Our Latest Favorite Pointy-Toed Shoes
Some of our latest favorite pointy-toed shoes include these options (as of 2023):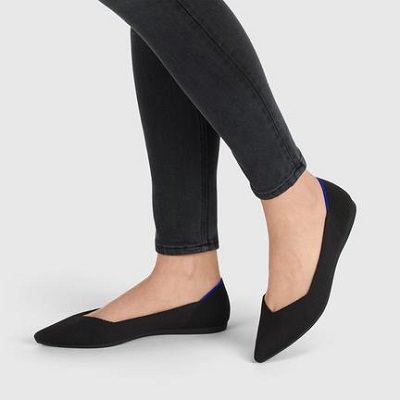 Some of Our Latest Favorite Low-Profile Sneakers
These are our latest favorite low-profile sneakers! Note that these tend to be more casual, so know your office! (Check out all of our latest favorite sneakers for work outfits here.)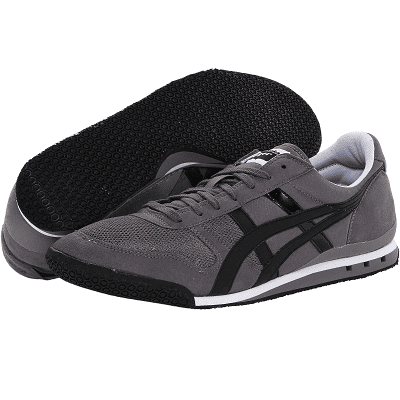 Stock photo via Deposit Photos / AG Creative Lab.