Sure, we all know what wardrobe essentials for work professional women are supposed to have in their closets, but if you're buying one for the first time or replacing one you've worn into the ground, it can be a pain to find exactly the right incarnation in stores. In "The Hunt," we search the stores for a basic item that every woman should have.
Elizabeth posted last week about wide leg trousers from Express, and there are SO MANY out right now that I thought we'd do a mini Hunt for the best wide-leg pants to wear to work right now. Readers, how do you feel about the trend? What are the best wide-leg pants to wear to work? What are your best tips on hemming them, and which shoes and tops do you pair them with?
For my $.02, I still feel like the proper hemming for full-length, wide-leg pants should be with a slight break on the vamp of your shoes, without pooling or dragging in the back. (I really have to redo the graphics on this post about hem lengths, but I generally still agree with my older advice.) I like them styled with sneakers or other flat shoes — getting a heel right with them can be a bit tricky, although I'd love to hear your tips! (Another possible issue to be on the lookout for: can you wear shoes without the pant leg getting caught and tucked in the strap, laces, or vamp of the shoe — kind of like in this picture (source)? Boots can be ideal for this reason.)
The main thing about full-length pants, though, is that you really do have to know which shoes you plan to wear them with when you get them hemmed — and then stick to that general height of shoe every time you wear the pants.
I'm seeing wide-leg pants styled with a lot of crop tops — for the office I'd switch it to a work-acceptable bodysuit or other close-fitted top.
Just another note on fabrics: I feel like either a drapey fabric, or a heavy fabric like tweed or flannel is better for these kinds of pants because cotton or linen will wrinkle — in fact, if you're planning on wearing the wide-leg pants to work I'd avoid those fabrics.
Readers, what are your thoughts? Have you bought any great wide-leg pants for work or play lately? How have you hemmed them, and what are you wearing them with?
Pictured at top: beige / pink / beige
This post contains affiliate links and Corporette® may earn commissions for purchases made through links in this post. For more details see here. Thank you so much for your support!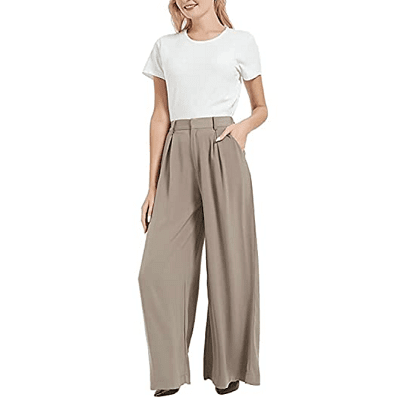 I bought these $35 Amazon pants after seeing them on some TikTok influencer, and liking that they had them in shorter lengths. The pros: they do fit me, and the hems aren't dragging at all — and the fabric, while cheap, is drapey and fluid. The cons: they are very wide. Also in this very affordable price range: Target (regular and plus sizes), Banana Republic Factory ($45+).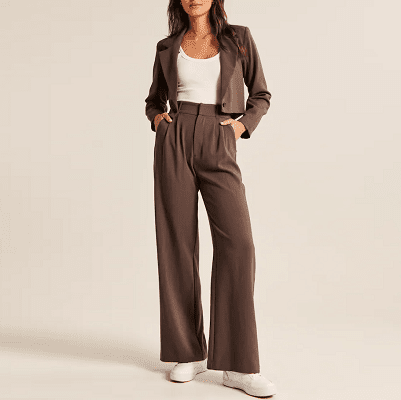 This is something else I've seen on TikTok, especially with mid-size bloggers: Abercrombie pants for the win, apparently! Every time I've gone to the website they have extremely limited sizes left, but are still available, so I suspect they're just being restocked in uneven ways. (You may have better luck at your local store.)
The pants are $90 at Abercrombie in sizes XXS-XXL in long, regular, and short sizes. Also in this price range: 1.State, NYDJ, Gap, and Express.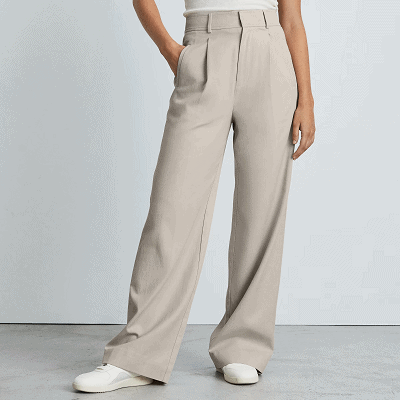 These Everlane pants look fabulous for $118. They come in 30″ and 32″ lengths, sizes 0-16, and 4 colors. For a similar casual/drapey feel around this price point, look to Madewell (petite, regular, tall sizes 0-16), and Norma Kamali (highly rated, lots of reviewers note they're great travel pants). These Anthro pants are $140 and come in regular, petite, tall, and plus sizes.
Another plus-size friendly brand with great wide-leg pants to wear to work: Reformation, available in TONS of colors in sizes 0-12 and in less colors in sizes 14-24. You can also find a few colors at Nordstrom and other retailers. They're $178.
These $218 Favorite Daughter pants look great, and are also available in a bunch of colors (and fabrics) at Nordstrom and FavoriteDaughter.com (ooh, and they have short lengths). They're available in sizes 0-18. Also in this price range: MMLF (plain front, $295), Reiss (more flared pants than wide, $245+).
Readers, what are the best wide-leg pants to wear to work in 2022? What are your best tips on hemming them, and which shoes and tops do you pair them with?
Like this feature? Check out other recent installments!
Social media images via Deposit Photos / JANIFEST (woman leans against blue velvet chair, she wears wide-leg pants to wear to work in white).