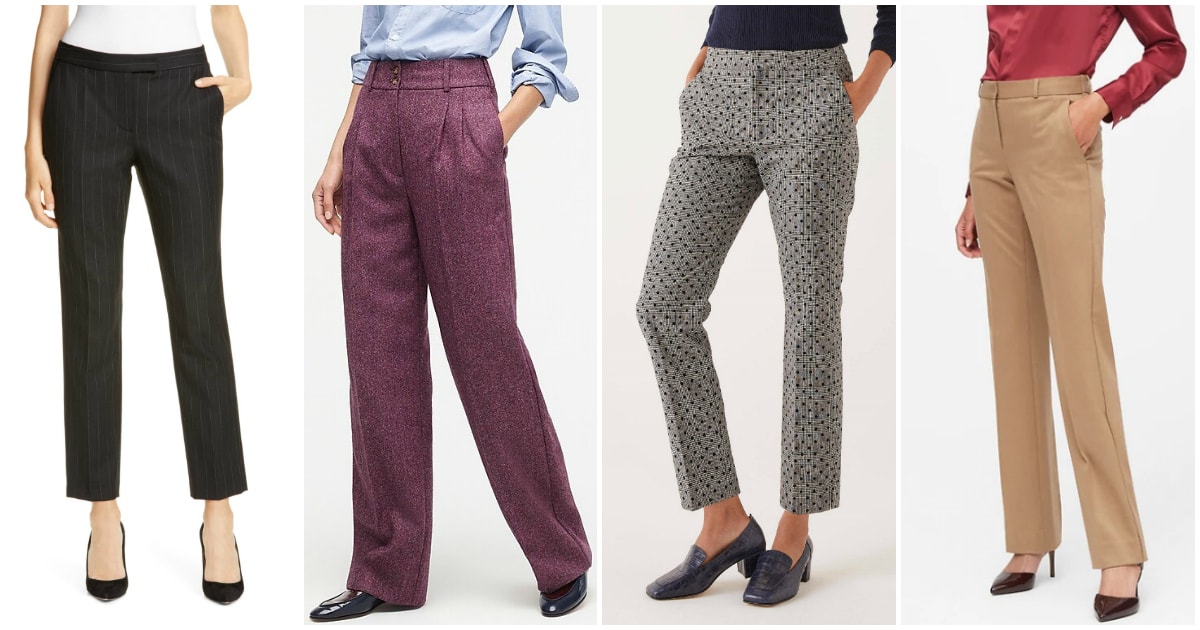 Sure, we all know what wardrobe essentials for work professional women are supposed to have in their closets, but if you're buying one for the first time or replacing one you've worn into the ground, it can be a pain to find exactly the right incarnation in stores. In "The Hunt," we search the stores for a basic item that every woman should have.
While seasonless wool pants are warm enough, and velvet and corduroy pants are great for more casual days, I thought we'd go on a hunt for the best women's dress pants for winter. Personally I've always loved the softness and drape of wool flannel pants, and although the styles change from year to year, I always feel like that's a polished look for the office. Wool blend pants are also great, although they can be on the itchy side, particularly if unlined — you may want to check out our last discussion on what to wear beneath unlined pants, and I'll drop a collage with links to my top suggestion for what to wear beneath unlined pants — thin long johns. (Particularly for silk long johns, but true of lots of the other ones out right now — they do an amazing job of blocking the wind when you're outside but not adding too much extra warmth or bulk when you're inside, so they're great for ALL pants, but particularly as a layer between you and itchy wool pants.)
Updated to note – I totally hear all the commenters annoyed at ankle pants! They were the OVERWHELMING majority of wool pants I found this year, which honestly does not make sense to me either since ankle pants and boots can be tough to pull off. In addition to the longer (mostly pleated) pants we included, the other kind of long wool pants were far too casual for the office, like this $194 pair from Vince.
Ladies, what are you wearing to work on the coldest days — are you on Team Fleece Tights? Team Wool Pants? Or have you found another solution for staying warm on your commute on the coldest days?
Psst – looking for other kinds of warm women's dress pants for the office? I'm updating some of the graphics and links in our older post on point and there will be 2019 picks for velvet and cords, wool blends, wool flannels, and seasonless wool also.
This post contains affiliate links and Corporette® may earn commissions for purchases made through links in this post. For more details see here. Thank you so much for your support!
Pictured at top: stripe / purple / dotted / camel
If you're a fan of the Logan Fit, these camel flannel pants are online exclusives and come in regular and petite sizes from 0-20 in three different inseams, short regular and long. They were $110, but are now marked to $66. While you're at BR, check out these cute cropped plaid wool pants. (And just for fun, check out this fuzzy sweater skirt, down to limited sizes.)
These luxe flannel pants from Talbots come in regular, petite, plus, and plus-size petites — and certain sizes and colors are going fast. There's a matching blazer if you want to make it a suit. They're $139-$159, but take 40% off your order today.
Boden has a TON of cute wool pants for the office, and I almost can't decide whether to feature these cute polka-dot ones, the elegant tie-waist ones, or their cropped tweed ones. Still, these have such a joie de vivre about them, and it's so unusual to see a pattern like this in a fabric like this, I figured I'd post. Truly fabulous. The pictured pants are available with black spots as well as yellow spots (squee!) in sizes 2-16 for $150. (Oooh – but Nordstrom has them down to $90.)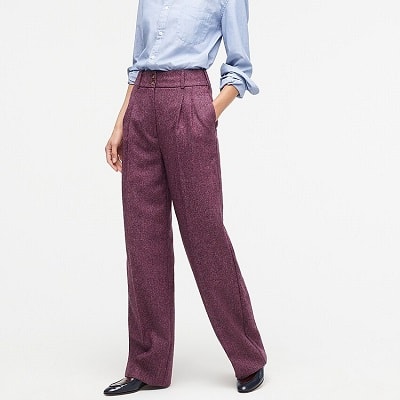 The deal is so good on these I think they're selling out fast, at least in the pictured Mulberry color — it's funny because I feel like pleated pants like this have been Way Far Out of Fashion for the past 20 years or so — but they're having a moment. J.Crew has them in this pretty pinkish purple, a light blue, and a gray, available in sizes 00-16 for $178 — but today you can take 40% off your order via code THURSDAY. If you like the look but not the price, Nordstrom has these similar Tommy Hilfiger pants down to $54 today, and Everlane has a similar style (not in wool).
I always forget that Nordstrom sells Canadian brand Judtih & Charles, and these wool blend pants (pictured) look so sleek and polished. They're among the great deals Nordstrom has right now on wool pants (seriously, check out this $172 Theory pair, this $89 Club Monaco pair, or this $165 Whistles pair) — and they were $385, down to $193.
Is anyone wearing white boots as often as catalog models are? But seriously — these cropped trousers look great if you like a slightly wider cut on top with a tapered bottom, some trendy pleats, and some chalky pinstripey goodness. They're $245 at Reiss, available in sizes 0-10.
Finally, as discussed above — here are some of our favorite long johns for under women's pants:
Pictured above, $9-$145: one / two / three / four
Like this feature? Check out other recent installments! (Looking for similar iterations from the past? Here's our 2017 roundup of warm women's dress pants for the office, 2012 roundup of the best wool flannel pants for women and our 2011 roundup of the best wool trousers for women.
Social media photo credit (businesswoman in pants and winter coat) via Deposit Photos / Astroid.