2018 Update: We still think this is a great discussion on how to find fun but professional patterns and colors — but you may also want to check out our Ultimate Guide to Business Casual for Women, our discussion on capsule wardrobes for work (using lots of color!), and our four-week work outfit challenge!
How can you find fun but professional patterns and colors? How can you integrate colors and patterns into a business casual wardrobe in general? Reader S wonders:
The only black piece of clothing I have is one blazer and I don't have a single white thing. You could find me in a floral skirts with striped tops, long bright dresses, and when I occasionally wear jeans, I always pair them with shirts and blazers. My favorite patterns are stripes and florals, favorite colors are purple, red, orange. Can this ever be professional? I feel very uncomfortable in black and would hate to give up my favorite pieces. The field where I hope to find a job is business causal.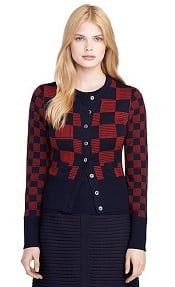 Great question, S! (Pictured at top: maybe an example of what NOT to wear, via stock photo site Stencil.) We've talked about how to start wearing prints, as well as how to mix prints — but not in a long while (other than this brief mention in our post on how to shop your closet and Play Clothes). So let's talk about it. First: I don't think there is anything inherently unprofessional about prints, colors, and patterns — indeed, some of the most adventurous dressers, who mixed prints and patterns in the boldest ways, are some of the male partners I knew at my old law firm.
The easy advice here is that it's very, very easy to throw on a solid cardigan or blazer that picks up one of the colors in your print, throw it on with a neutral trouser or skirt, and go to work. But let's have a bit more fun with it…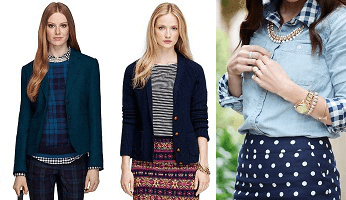 Layer multiple patterns and anchor them with a solid piece, either in a neutral (black or white) or a color from one of the prints. (Check out our new Professional Prints board on Pinterest to see the pictures bigger, and click through for the sources.)
Play with texture and color (example at top). Pictured above — I love the way the striped, ribbed pattern on the skirt plays with the checkered pattern of the merino wool sweater.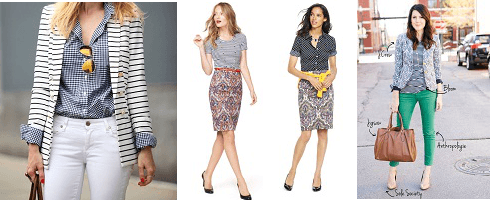 Use polka dots or stripes as a base for other patterns — it's hard to go wrong mixing them!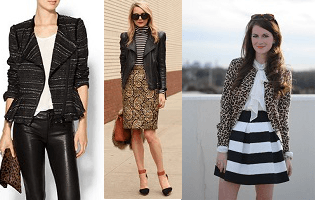 Another great combo: brown prints (often animal prints) paired with black and white. This is a new one to me, but I think it really works in all of the pictures.

Mix black and white prints for a fun look. This is one of the easiest ways to get bold with prints, and still look professional. Studying the pictures above, I think that one big pattern, combined with a second, smaller pattern, works the best. The first, second, and sixth photos all combine an anchor piece — a solid black or white blazer or blouse — to make it just a bit more conservative.
Readers, how do you find fun but professional patterns and colors for your work outfits? Do you think there are limits on what patterns, prints and colors can be professional? Do you have any favorite ways to mix colors or prints? What are your favorite examples of fun but professional patterns and colors for the office?