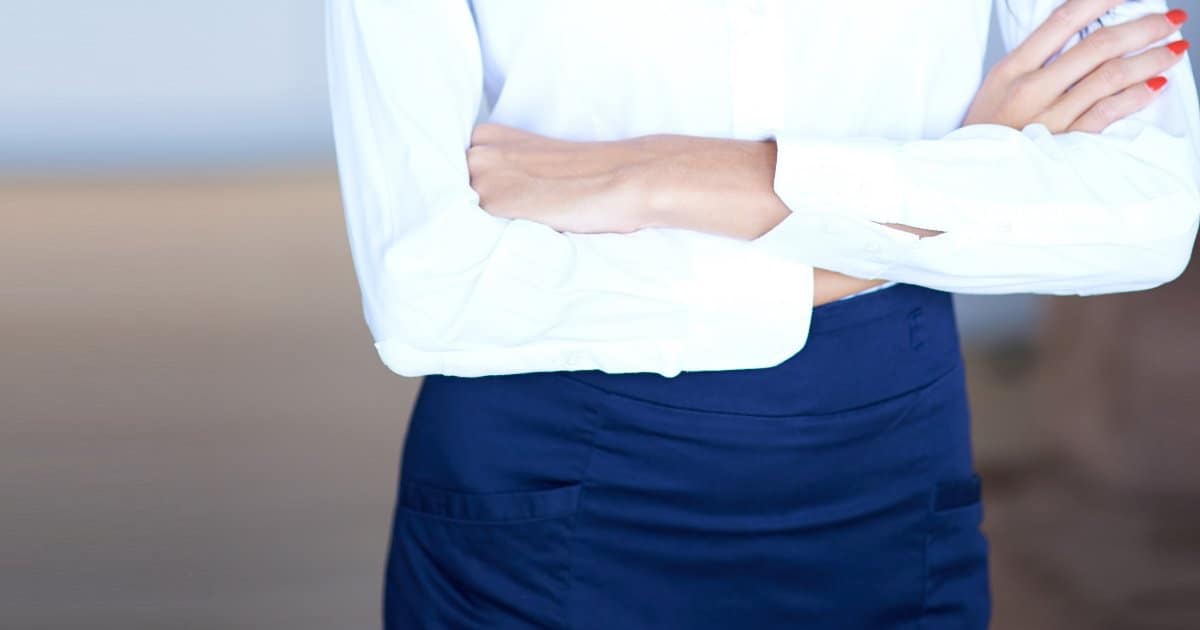 2018 Update: We still think this is a great discussion of the best color tights to wear with navy skirts — and if you like this you may want to check out our Four Week Work Outfit Challenge!
What color tights do you wear with a navy suit? Reader B wonders…
I'm a skirt suit kinda girl, in part because I prefer to commute in flats and then switch to heels at the office. (Since I'm short, most of my suit pants are hemmed for heels.) Winter isn't a problem for my black and grey suits; I just trade the hose for black tights. (Side note: the Commando tights you recommended are now my absolute favorites.)

Here's the issue: two of my favorite skirt suits are navy or navy pinstripe. Pairing navy tights with a navy suit seems crazy monochromatic, and most of the heather or grey tights I've seen feel a bit casual for the office. So I end up wearing plain old hose, and my legs freeze on the way to work.
Hmmn. Great question — this is actually the combo that led me, many moons ago, to wear purple fishnets to work (pictured, in a random picture I happened to take that day – navy sweater, navy wool skirt, purple fishnets, purple shoes), although the last time we took a poll on fishnets at the office readers were really against 'em. (Although, if you want, you can get a pair of purple fishnets here, or a crochet set here.) Poking around a bit online, here are a few more ideas: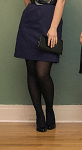 – Black tights (worn with black shoes or boots). I think you should always match your tights to your shoes, and I do advise people to wear black shoes with navy. The only caveat: make it clear that you know you're wearing black and navy (and that you didn't get dressed in the dark). (I can't quite find the image credit, but this chat page has an image of a woman wearing a navy skirt and black tights.) Particularly with the Banana Republic suit you linked to — which is more of a slate, grayish blue — I think black tights would work wonderfully.
– Navy tights — possibly with a fun shoe, such as a pair of purple pumps.
– Colored tights. This can be pretty daring, depending on the office, so proceed with caution — but I think purple (solid or textured), solid red (perhaps to wear with cordovan shoes) or even solid emerald tights would work.
– I almost hate to suggest this, because I generally think of white tights as being little-girl-ish, but: I could see a navy skirt, a thick, knit pair of white tights, and a pair of tall, flat brown boots being a really nice look for the office.
Readers, what color tights do you wear with navy skirts? If you wear navy tights, what color shoes do you wear?
Social media image credit: Deposit Photos / dashek.