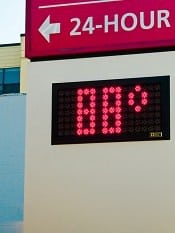 2018 Update: We still stand by this advice on whether you can wear a black suit in a summer interview, and you may want to check out our roundup of the best women's suits of 2018.
Can you still interview in a black suit in the summertime? When you have to attend a job interview in hot weather, is there a better, lighter alternative to the standard black or blue suit? Reader D wonders…
I had a sudden job interview this week and had to wear a suit. Although they had air conditioning, it was very hot. My suit was black and it seemed too heavy. Aren't there better alternatives to the black/blue suit when it's over 80 degrees? Thanks!
Interesting question. We've talked about whether seasonless suiting is truly seasonless, as well as discussed lightweight blazers, dressing professionally for summer, and maintaining a professional look when it's blisteringly hot — but we haven't talked about this exact question.
I'm curious to hear what the readers say — my gut reaction here, possibly tempered by spending pretty much every summer since reaching adulthood in New York City is this: Not wear black? What're you talkin' about? So: with everything else, know your region (much like with colorful suits). Still, some notes:
Interview in a cotton suit.  Tropical/seasonless wool is usually what people interview in — but if it were me, and I doubted my ability to show up at the interview not melted/sweaty/disgusting, I would wear a suit like Ann Taylor's cotton sateen suiting.
Interview in lighter colors.  If your only objection to black is sartorial, and it just feels heavy, there are a bunch of professional ways to lighten it up — wear a white or pastel blouse beneath the suit instead of a darker color; add white details (pearls are seasonless, but my mind does go right there for an interview!), or wear a gray or navy suit instead if black feels too funereal.
Hack the interview.  If you're worried about looking like a sweaty mess for the interview, you may need to pull out all the stops. For example:

Arrive early and plan to go to a coffee shop nearby for at least 15 minutes to cool down.
Drink a very cold drink, and press an ice-filled glass against your pressure points.
If there's public transportation such as a long, hot, sticky subway ride, consider a) bringing your pantyhose and blazer to change into at the coffee shop, and b) consider using something designed to absorb sweat from armpits and your bra, such as the Wick'Em bra liner or armpit shields. If you're worried about smelling sweaty, a new application of deodorant and a spritz or two of dry shampoo may also be in your future. (Please, please, please do not use perfume to attempt to cover up the smell of sweat.)
Ladies, what are your thoughts — would you wear a black suit in a summer interview? Would you raise an eyebrow if someone interviewed for you in a black suit?  
Psst: We've also talked about gray suits for interviews and suit colors in general — and you should also check out our Guide to Basic Women's Suiting.
(Pictured at top: YIP 2010.228 – Not enough road to get up to 88, originally uploaded to Flickr by Steve Mohundro.)