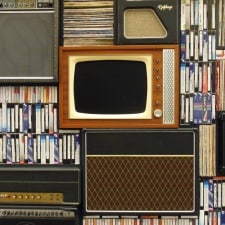 Ladies, it's been far too long since we've had a check-in to see what you're reading, what TV you're bingeing on, what movies you've loved, and more (games?). What would you recommend? For my $.02, my television habits are probably more erudite than most of my other habits at this point. Right now, my husband and I love to watch
great 
TV — anything mediocre seems like a letdown. (No judgment here, though — I've enjoyed plenty of not-as-great TV, too.) I'm talking about shows like 
Fargo
,
Big Little Lies
,
Game of Thrones 
… the usual heavy-hitters for awards. I'd recommend binge-watching
Fortitude
(Amazon), and I finally watched
House of Cards
(Netflix; not sure I'd recommend the last season). When it comes to reading, I've been enjoying a ton of
brain candy
, romance-type books lately — a friend joked that it was similar to the "grief reading" she did when her father passed, and I suppose that's true (no one died in our family; we're just going through some slightly stressful family issues and general "2017 stinks" issues.) I can't wait to read
Big Little Lies
, though, and
Crazy Rich Asians
is also on my list. (Trust me, this counts as "literature" compared to the other stuff I've been reading.) Kate offered to share her current faves, too:
Reading: I have to admit that my reading habits of late have mostly brought me to online outlets rather than anything on paper, as well as shorter things vs. books: for example, articles in The Washington Post (especially because I have a free digital subscription for six months through Amazon Prime) and stories linked from Longform that have ranged from "Losing It in the Anti-Dieting Age" from The New York Times to "The Story of the DuckTales Theme, History's Catchiest Single Minute of Music" from Vanity Fair. Watching: I don't watch a lot of TV on the actual television, mostly because we don't have cable — so everything I'll mention here is streaming on Netflix. As a Marvel fan, I'm currently enjoying Daredevil, and I'll start The Defenders once I finish (skipping Iron Fist, which was universally panned). I'd also recommend Jessica Jones (as a loyal David Tennant fangirl), which is now filming its second season, and Luke Cage (which features some great music, including Sharon Jones & The Dap-Kings). I've also recently binge-watched Jane the Virgin (perfect escapist TV!) and Agents of S.H.I.E.L.D. (yes, Marvel again). I've become reacquainted with Portlandia, which is a lot of fun, and I finally watched Black Mirror, which is equally entertaining and disturbing. I'm looking forward to the next season of Crazy Ex-Girlfriend — Rebecca Bloom is a musical and comedic genius!
So, ladies: What did you find and devour on your summer vacation that you would heartily recommend? And looking ahead: What are you eagerly awaiting? What fall TV are you looking forward to the most — are there any fall premieres you've made sure to add to your calendar? 
Image source: Pixabay