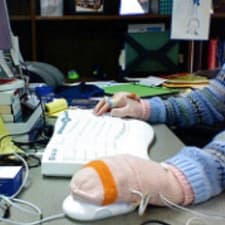 Update: We still stand by this advice on how to deal with the freezing office, but you may also want to check out our more recent discussions on the subzero office thanks to summer A/C, as well as the freezing office all winter long.
Reader K has an interesting question about cold offices – how can you look professional in a freezing office?
Now that the weather is changing, my office has a tendency to get pretty cold. I am wondering if you have any ideas on something to keep in the office for when it gets a little chilly. If the answer is a shawl or a wrap, I'd also love some advice on how to pull it off. Also, should I keep two pieces – one for days I am wearing black and another for days I am wearing navy or brown? My dingy cardigan has to go…
Great question, as the cold office seems to be a real problem for so many women I know. (Pictured: So I broke down and pulled out the heated, fingerless gloves that the CA folks gave me, originally uploaded to Flickr by cindiann.)
First, let's make an important distinction: there's the cold office as a whole (cold hallways, cold meeting rooms, etc), and then there's the cold "I'm sitting in my office working by myself and I'm freezing" office.
If your office as a whole is just generally freezing, I think your "outfit" for the day should keep that in mind. In other words — don't keep one cardigan at the office that you're going to have to change into every day; actually dress warmly enough for the office. Cashmere and wool sweaters, tweed and corduroy blazers… you get the picture.
Psst: stay tuned for our upcoming roundup on lesser-known products to keep you warm!
Psst: these are some of our latest favorite sweater blazers…
Pictured above, great sweater jackets for the office: navy / black / gray / cropped black / beige (not pictured but also)
This post contains affiliate links and Corporette® may earn commissions for purchases made through links in this post. For more details see here. Thank you so much for your support!
It's the "I'm sitting alone in my office and freezing" problem that I tend to have more frequently, though. You have a number of options:
How to Deal with the Freezing Office
a) the wrap — I tend to keep a plain black "office pashmina" in my office, as well as a colorful one in my office that works with most of my outfits. I think I mentioned it in this post, but I frequently use the wrap as a lap blanket if I'm wearing a skirt
Some of our favorite office pashminas as of 2021: black / beige / gray (lighter weight) / lavender ($15!!). If you're looking for more of a ruana jacket, I highly recommend the Brooks Brothers' ones!
b) a cardigan (or two) for the office — in theory, if you're only wearing it in your office it doesn't matter if it matches your outfit or not so you can just keep a black one in your office — beige or cream is another versatile color. (A hint: don't forget to take these cardigans and other items of clothing home every now and again for laundering!)
c) the space heater — you may want to check with your office manager before you bring in one of these, but I love my little Vornado space heater
. You do have to be a smart about using it, though — I turn mine off if I leave my office to go to lunch or a meeting, and I don't let any papers, shoes, boxes, or other stuff anywhere near the space heater. (I have a fantastically messy office.)
d) gloves – yes, seriously! Depending on your job, you may even want to consider keeping a pair of gloves in your office — I remember them particularly coming in handy while doing computerized document review, where you're just staring at the screen and using your mouse to go from doc to doc. (Oh, the glamorous lives we lead!)
In fact, a quick search on Amazon turns up an impressive number of USB-heated accessories
, including USB-heated slippers, gloves, lap blankets, wrist warmers, and more.
Psst: stay tuned for our upcoming roundup on lesser-known products to keep you warm!
Readers, what are your tips for staying warm in the office? Anyone with a pair of USB-heated gloves or slippers willing to report in?