If your office is freezing, it doesn't matter how hot it is outside — you want to bundle up and stay as warm as possible. Can you stay warm in a subzero office where the A/C is blaring — and still look polished? Trust us, there's a better way than having an office Snuggie, as some of Reader N's coworkers seem to have done:
Despite record breaking temperatures this summer, I find myself huddled in my "office sweater" most of the day. (You know, the one you keep in a drawer in case your nice business casual outfit can't keep you warm.) While some of my co-workers have long resorted to bringing in  fleece blankets to huddle in, I would like to avoid this 'burrito-chic' fashion.  I'm already wearing winter-weight pants with seasonally appropriate tops, but most of the time I resort back to the tired but appropriate Old Navy sweater. That is, until I found a strange alternative.  My question for you is it so strange I should actually just stick to my sweater…

The piece in question is a blazer made of thick hoodie material. It's fitted/tailored  just right for me as a blazer, but it has a zipper where the front buttons should be. I feel kind of funny wearing such an odd thing, but it does make me feel like I'm more business-casual than business-burrito.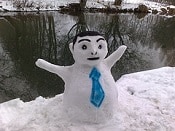 I'm with you — it always felt like my office was the South Pole in the summertime.  And trust me, nothing makes you feel more glamorous than settling in for a long day of doc review wearing a hat and gloves (although, hey, those are options).  We've talked about how to stay warm in the office in the fall and winter, but the summer office can be a bit more difficult because there's such a stark contrast between your inside and outside dress. (Pictured: Snow(business)man, originally uploaded to Flickr by oxygen timebomb.) Here are some more professional suggestions…
– The wrap.  I think every woman's office needs a wrap.  It's particularly great to wrap around your legs if you're wearing bare legs and a skirt — in addition to keeping you warm, it pretty much lets you sit however you want to.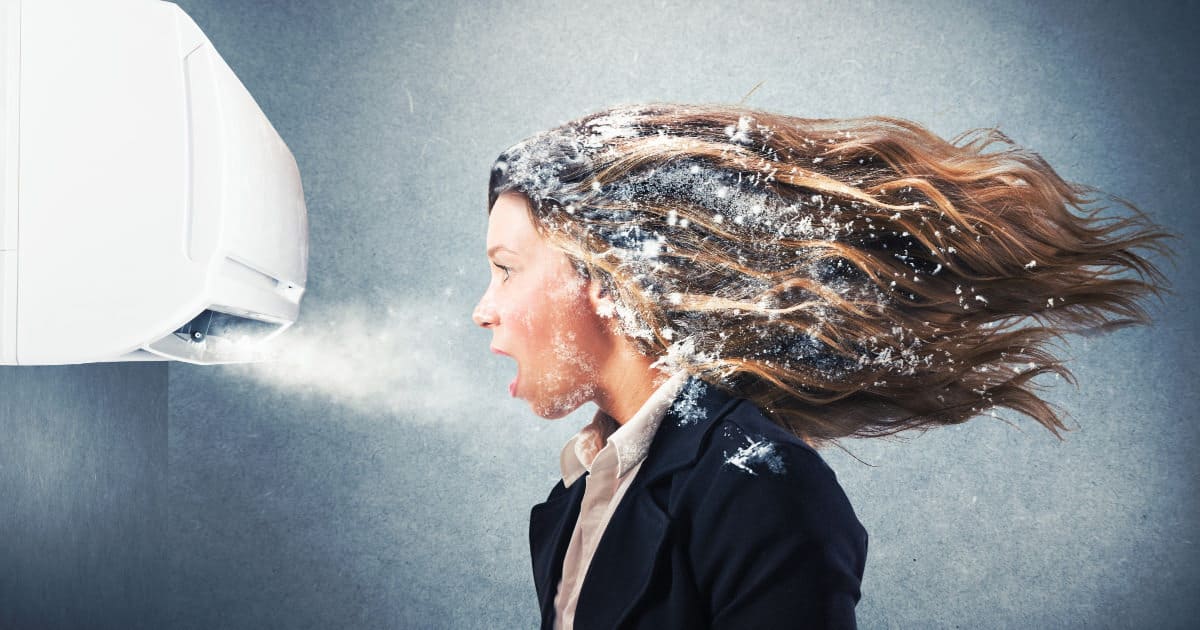 – Layer a cardigan under a blazer.  I have always loved a good silk cardigan for the office, for this exact reason — the silk holds its shape far better than cotton.  On your way to the office, wear your tee or tank by itself and throw your sweater over your shoulders (just make sure to button the sweater to avoid the "cape" look) — when you arrive at the office you can add the sweater, add the blazer you keep at the office, add both, or add the blazer and then throw the sweater over the blazer's shoulders. Or, ha, wear the cardigan, layer the blazer on it, and then throw the wrap around your shoulders for extra measure.
– Socks.  If you frequently work for long stretches without getting up, this can be a great way to keep your toes warm, since you're probably wearing bare feet with your pumps or flats.
– Hot liquids. Coffee, tea, soups… nothing feels quite so great as to wrap your hands around that warm container. Another good snack for the freezing summer office: oatmeal (which you often can make with just hot water, so it's a great office snack anyway).  (Actually, the first time I ever drank coffee was to stay warm — when I was 15 I attended a writer's conference, and was the only teenager in the room, so all they had was coffee — I was so freezing that I decided to add enough sugar to it until it was drinkable.)
– Resort to fleece.  My only objection to fleece is that you will definitely look seasonally inappropriate — but sometimes you just don't care because you're freezing!  It sounds like Reader N has found a good piece; I've also pictured a few pieces below that I think could work for the office — when designers like Akris are making fleece cardigans (marked down to $511!) you know it's the beginning of a trend.  (Pictured below, top row: 1, 2, 3. Bottom row:  1, 2, 3.)
Readers, how do you stay warm in the freezing summer office? Do you think fleece is ever acceptable for the office?
Social media images via Deposit Photos / TKK.