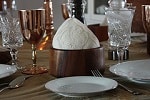 Reader L has a great question about how to show her appreciation for a new secretary who's doing a great job:
I'm a young associate at a new firm and a few times recently, my secretary has helped me put together and file huge motions. Of course such filings are always done up against tight deadlines , so my secretary has stayed late to do this. What's an appropriate way to show her how much I appreciate this? I barely know her and am much younger, so I don't feel comfortable inviting her out to lunch. I rarely take a lunch break anyway. We have coffee, tea, etc. in the office, so bringing her a Starbucks or Dunkin Donuts coffee tomorrow, doesn't seem much of a gesture. I don't want to buy her a gift, I just want to do something thoughtful to show how much I appreciate her help. Any ideas?
This is a great question — I've had older secretaries myself and I know how difficult it can be to strike the right tone!  We've shared stories about great support staff, discussed how to use administrative assistants, and talked about what to get secretaries for holidays — but we haven't talked about small gestures of thanks for staffers.
– You're new, she's been helpful — make the time to take her to lunch!  [Read more…]