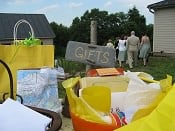 2017 Update: We still stand by this advice on  buying a wedding gift for your assistant, even if you're not invited— links have also been updated below.
If one of your coworkers is getting married and you're not invited to the wedding, should you give her a gift? What if it's someone really important — for example, should you get a wedding gift for your assistant anyway? Reader L wonders…
My secretary is getting married very soon, and I'm wondering whether I should get her a wedding gift and, if so, what I should get her. She's in her 40s and this is her second marriage (she has adult children). She's just having a small wedding at home, so I didn't get an invite or anything, I was just thinking it would be nice to get her something but I have no idea what. It's not like she's in her 20s and just starting out, so I'm kind of at a loss. Hoping you and/or your readers can help.
Interesting. I see a lot of questions from commenters about what to gift, when to gift, and so forth, so here are my $.02… (Note that my advice is the same if your admin is a man, as well; but because Reader L has a female secretary, let's use the feminine…)
If you're not invited to your colleague's wedding, technically you don't have to get anything. That said, you want to keep your assistant happy. So for my $.02, I would suggest getting her a "token" gift — you're acknowledging this important day in her life. A small gift card, something small off her registry — it's a gesture to show you are happy for her and wish her well; nothing more. I would guess, though, that a gift of extra leeway around the wedding would be more appreciated than a token gift — it isn't a months-long pass to plan her wedding at the office, but just a bit of extra understanding on your part that she has Other Stuff Going On in the days before the wedding, as well as the day or two after she returns.
Ladies, what gift (if any) would you give your secretary if you weren't invited to the wedding? What in general are your thoughts on weddings and colleagues?
Psst: we've also talked about what to wear to a colleague's wedding, inviting coworkers to your wedding, what to wear to officiate a wedding, and wedding and baby showers at the office.
(Pictured: Gifts, originally uploaded to Flickr by Adam Gerard.)
—————
N.B. These substantive posts are intended to be a source of community comment on a particular topic, which readers can browse through without having to sift out a lot of unrelated comments. And so, although of course we highly value all comments by our readers, we're going to ask you to please keep your comments on topic; threadjacks will be deleted at our sole discretion and convenience. Thank you for your understanding!
Picture below via Stencil.