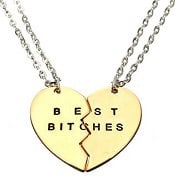 Hiring friends: yea or nay? Does your answer vary if you're hiring a friend to be a colleague/equal versus hiring an assistant? We've talked about interviewing with friends, but not the reverse situation, hiring a friend. Reader M wonders…
I work at a small law firm. I'm pretty junior, but I have a considerable amount of input on decisions about the business. We don't have an HR department or a formal hiring process. We're getting pretty busy and I think it's time to hire a new assistant to help us handle the work. A friend's girlfriend recently moved to our city and has experience working as an assistant in a professional environment. I'm thinking of asking her if she'd be interested in the job – I know how hard it can be to find a good job in a new city and I know she's qualified, so I'd be happy to help her and add some one likeable and competent to our staff in the process. Is it always a bad idea to hire a friend?
Interesting question, M. There are two things that concern me about this situation. First: she's your friend's girlfriend — not your friend. You don't know if/how things will end between them, or how awkward it's going to be if you have to choose sides.
The second thing is that she'll be an assistant — and being friends with staffers can get kind of murky, particularly for women. In this situation there are two considerations here — first, if you and she are pals around the office, your superiors might start viewing you as "one of the girls," which isn't going to be good for your career. Second, if you know this person enough to let your hair down around her, socially, it's going to be a bit awkward giving her assignments and acting like a boss with her. (After all, you need to be respected, not liked.)  There needs to be some separation between work and life — and to me this is way too little space.
Readers, what are your thoughts — would you ever encourage a friend to apply to an administrative/secretarial position at your workplace?
Psst: we've talked before about using friends to network, as well as competing with friends for jobs.
Pictured: New Best Bitches set of friendship necklaces, available from Etsy seller guiltyeocrc for $4.50.