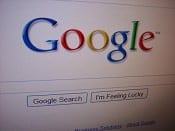 What will potential employers find when they Google your name — and what can you do if you don't like what they'll see? How can your own website help you manage your personal brand online? Reader T wonders…
I have a question about personal websites for lawyers and professional women.

Before law school, I had a reasonably lengthy career in an unrelated (and somewhat internet-based) industry. This means that when you Google me, you get a million hits unrelated to law, and can find lots of things I've written about pop culture, television, and movies. I'm not embarrassed by that work at all, but I know it can read as non-professional. So when I went to law school, I created a personal website that included both material from my previous career and information about my work as a law student. But now I'm graduating and going to clerk, and I'm worried about projecting professionalism.

Should I take down my personal website altogether? (Does a lawyer really need one?) Continue to include both my legal resume and my pre-legal work product? Scrub the non-legal stuff? Scrub the legal stuff and have it only relate to my previous work? Any advice is appreciated!
This is a really interesting question, and one that I see being more about controlling your past on the Internet and less about the propriety of personal websites (which we'll get to in a second). Who among us, after all, hasn't written pages upon pages upon pages of commentary on a show you really liked back when, say, you were a senior in high school and didn't have anything else to focus on? Just me and VR.5? OK then. (Amazingly it all seems to be gone now, a mere 20 years later — I swear just 5 years ago there were still hits.) But my point is: stuff is out there. And it's incredibly hard to take down — so hard that I generally don't recommend trying unless you know the site owner(s) personally.