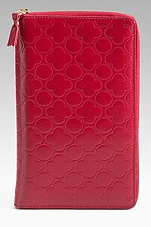 2014 update: you may want to check out our latest discussion of emergency funds.
We noticed that our post on savings seemed to be a popular one, so we thought we'd start another discussion on money and investing. Today we're wondering, dear readers, about your emergency funds: how did you calculate the amount, how do you store it, and how often do you reevaluate the amount and the storage situation?  (Pictured: Comme des Garcons Large Zip-Around Wallet, available at Saks.com for $325.)
A caveat, at the beginning: we are not experts in financial advice.
The emergency fund, though, is one of those basic topics that you read about.  If you're in debt, they say, save for your emergency fund first, and then begin paying off debt.  If you're not in debt, they say, save for your emergency fund — and keep it liquid — before you start investing in the market.  The emergency fund is supposed to be there as a a cushion in case you or your spouse lose your job, or if some other emergency comes up, such as medical needs or a car accident. [Read more…]