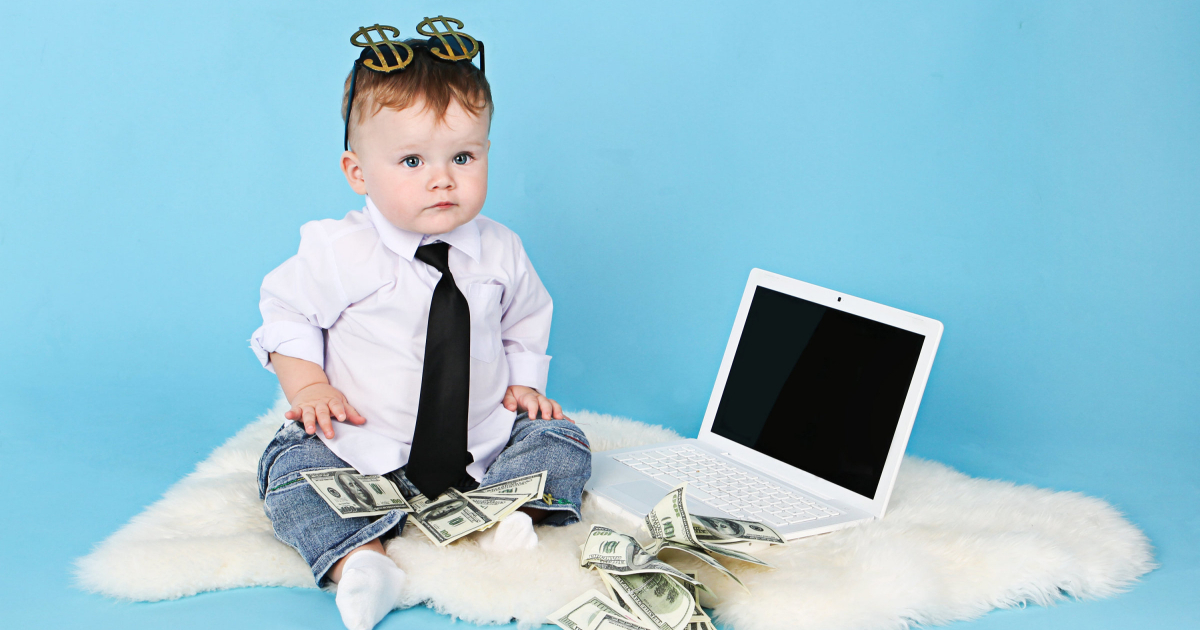 We've talked about some of the major financial milestones that can affect your life, like wedding and grad school — but we haven't yet talked about how to financially prepare for baby. (We have talked in general terms about family planning, as well as when the "best" time to get pregnant is.) So here are the questions: how can you prepare financially for a baby? What considerations should factor into the decision to start trying? Mamas, what are your best tips for the women still just pondering it?
First, a story. I remember being pregnant with my first child and reading a story somewhere about how babies were so expensive. Yeah yeah yeah, I thought. Sure, there are big purchases like a stroller and a crib. But a baby shirt is like $5! Diapers are like, what, $20 a box? NBD.
Stopped laughing yet? I didn't get it — in a big way. CHILDCARE is the huge expense for children. It really escaped my notice that if I wanted to work for 40 hours a week, then someone would need to watch the baby for 40 hours a week.
In most states, public school doesn't kick in until kindergarten — aka, age FIVE. So that's five years of childcare — per kid — that you need to figure out. We've talked about the pros and cons of different childcare arrangements over at CorporetteMoms, and last week we talked generally about parental budgeting — but I thought we'd bring the conversation over to Corporette.
How to Financially Prepare for Babies Before You Start Trying
For my $.02, for those of you just considering a baby, I would say:
Lock down health insurance. I would strongly, strongly, strongly advise you to get health insurance (a good policy!) before you consider having a baby. Doctors' visits add up, as do ultrasounds, visits to specialists, and the ultimate labor and delivery bill. (I believe my copay was $1000 for each pregnancy, but for my relatively uncomplicated births I recall seeing that the hospital bill for Jack was $16K, and for Harry it was $14K…. I definitely would not have wanted to be facing either of those numbers without insurance.)
Know your maternity leave policy. Note that you are only eligible for FMLA leave if "you have worked for your employer for at least 12 months, and have worked for at least 1,250 hours over the previous 12 months, and work at a location where at least 50 employees are employed by the employer within 75 miles." We've also talked on here about negotiating for maternity leave at the interview stage, as well as (on CorporetteMoms) what an ideal maternity leave would look like.
Consider getting short-term disability. Pregnancy may or may not be covered — and it may not be covered as a preexisting condition — so it's best to think about this before you get pregnant.
Know if any vesting periods apply to you. Stock options, pension plans, 401K matches, etc — if any of those employee perks may apply to you, take a look so you know what the situation is. If you're only ten months away from being fully vested in a big perk, you may want to wait to start trying for another month or two.
Get a budgetary cushion. You will need some cash for doctors' copays and baby essentials, and you'll eventually be able to roll that cushion over for childcare expenses. In a perfect world I would suggest you have at least $1K-$5K cash, but obviously a lot of people have gotten pregnant with a lot less and been fine.
Talk to your doctors. Finally, if you haven't yet started trying to conceive, a minor note — talk to your doctor (and have your partner talk to his doctor) before you start. My doctor suggested I get some more shots (the MMR vacine, if memory serves) that I could not have gotten while pregnant or nursing, and I also had genetic testing done. Unexpected health complications can be expensive, so being proactive here can really help.
This post contains affiliate links and Corporette® may earn commissions for purchases made through links in this post. For more details see here. Thank you so much for your support!
Financially Preparing For Baby Once You're Pregnant
Meanwhile, once you're pregnant, I would suggest:
All of the above.
Lose the extras. Drop the extra loan payments you may be making (or scale them back significantly), drop or scale back the automatic investing you're doing, and if things are really tight, even consider scaling back on your 401K or other retirement investments. This will help you aggressively build (or keep building) your cushion, and once the baby arrives it will help you adjust financially to the new expenses.
As early as possible, start thinking about childcare. If you live in an urban area like NYC or DC, get on the waiting list for the daycares in the area as soon as you know you're pregnant — even if you decide to go for a nanny in the long run, it's better to have all options available.
Don't worry too much about nursery decor, toys, or clothes — at least, not until after you've had your baby shower, and after you've found the local parenting listserv in your area where parents resell their gently-used baby stuff for 50-80% off retail prices. The book Baby Bargains (affiliate link) is a must for assessing what you need to buy new, where to register, and more. Be sure to get the latest edition — they revise the book frequently to stay up to date with different recall notices and changes in guidelines. (Some of our other favorite resources for pregnant moms are here. Also note that Amazon Mom is amazing.)
Slow down on that babymoon or push present. There's a lot in popular culture that makes you think these things are expected, but really weigh whether they're right for you (and your financial situation). For the babymoon, there are pros and cons. The pro: this is the last time you'll have to be alone with your partner for what will feel like a very loooong time. The cons: if you're pregnant, you'll possibly be sick to your stomach and not up for a lot of physical activity. Yay!
Reset your expectations. If you earn $50K a year, and you would owe a babysitter $40K a year, does it make sense for you to stay home? Not necessarily — a lot of parents look at it as "paying to work," but remember that you're also keeping your career alive. If you have a burning desire to be a SAHM, that's one thing, but from a purely financial perspective it doesn't necessarily make sense in the long run. (If you DO want to be a SAHM, check out our tips for keeping your career network alive as a SAHM.)
Finally, I suppose, another $.02 note — you'll never truly be able to prepare for having children, financially or otherwise… part of the fun of it all (ahem) is figuring it out as you go. Deep breath, big hugs, keep calm, etc.
Ladies, what are your best tips for financially preparing for baby? What adjustments did you make before you started to TTC, what adjustments did you make while pregnant, and what adjustments did you make after your baby was born?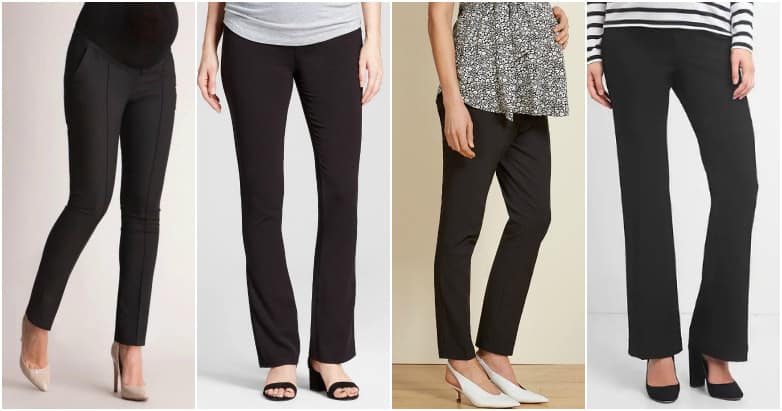 Pictured above, some of our favorite maternity pants for the office: one/ two / three / four
Updated stock photo (baby with money) via Deposit Photos / AlikeYou. Originally pictured: Halogen® Saffiano Leather Zip Around Wallet, originally $98, now marked to $58 as part of the Nordstrom clearance sale.