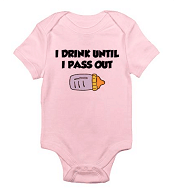 2017 Update: We still stand by this advice on what to wear to pump at work (and it was a great discussion!), but you may also want to check out our best tips on pumping at the office, compiled on our blog for working mothers, CorporetteMoms! 
What ARE the best clothes for pumping breastmilk at the office? This is a question I get asked so often, I thought we'd have a discussion about it.  (We have talked about it once before, from guest poster Jenny Hamilton, who had some great general advice, as well as advice on how to travel for business while pumping.) Here's the latest question, from reader K:
Here's my dilemma, I'm headed out for maternity leave in a month or so and am looking for professional clothes that are nursing / pumping friendly. I don't want to break the bank, but most of what I've found so far is either cheap looking or totally inappropriate. I don't need to "show off my new assets" at work. I just need to be able to look professional and pulled together, and pump without having to strip all the way down. Any guidance would be appreciated.
Congratulations on your baby! The current American Academy of Pediatrics guidelines suggest that mothers nurse their children for the first year of their life (recommending that babies exclusively eat breastmilk for the first 6 months). I'll say up front that there's absolutely nothing wrong with formula if that's what you choose to do. (I'll also note: it doesn't have to be an all or nothing proposition. You can nurse her for 3 months, then just nurse morning and night with your child and give her formula in the middle of the day, skipping the pump entirely.) But: working moms who pump — you guys are rockstars in my book. I'm always inspired by commenters who talk about having pumped for long periods of time (I think one commenter was recently celebrating an end to four years of pumping!) Even in a perfect world, it takes dedication and drive to pump regularly — but I've also heard war stories from friends, about trekking to windowless closets with pumping equipment, about enduring funny looks and having to explain their various funnels and contraptions when they rinsed them off in the ladies' room. It ain't easy.