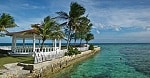 2015 Update: We still stand by this advice on resort chic for a business meeting in the Bahamas, but you may also want to check out our more recent post on what "resort business casual" actually means.
Reader L has a question about what to wear for a business meeting in the Bahamas…
Unlike many of your readers, I am not a lawyer but am an MBA grad working in Investor Relations. After a couple of years of trudging through the economy, the management team has decided to have our small strategic planning meeting in the Bahamas next month (yay!); however, I am at a loss when it comes to attire. The information provided says "resort chic". I'm assuming that means clothing which does not consist of a printed hibiscus sprawling across ones chest. Can you give me some suggestions where I can go to find classy resort wear? Thanks a bunch. I'll toast a fruity drink to you!
Well, I'll do anything to have a fruity drink toasted to me. :) Honestly, though: why do companies keep doing these kinds of awkward retreats, without specific advice for women? The men who attend this meeting will show up in khaki pants and a button-front shirt and be A-OK; if they're more formal some may have a linen blazer with them, whereas others may wear shorts with untucked button-front shirts (with the sleeves rolled up, of course). Either way you slice it, the margin of error will be fairly small for the men. Whereas for women — when one says "resort chic" my imagination runs from the casual hippie clothing like a maxi dress to the more high-fashion model look of someone 6′ tall wearing short-shorts, 4″ heels, and perhaps an expensive blouse, loaded up with jewelry and a sour expression. Or, of course, a great bikini… but none of those choices really seem ideal for your situation, because you don't want to confuse vacation with a business meeting  (Pictured: Bahamas Gazebo, originally uploaded to Flickr by bryce_edwards.) [Read more…]