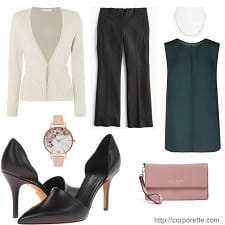 We just rounded up a ton of great black heels for interviews and beyond — and they're such a basic, versatile piece in your work wardrobe you hopefully don't need TOO many ideas for how to wear them to work. Still, I thought it would be fun to come up with a few work outfit ideas, including a very conservative/classic interview outfit.
The Very Conservative Interview Outfit
The ultimate goal of any interview outfit is to not have your clothes distract from your resume, your accomplishments, and your words. Note that your heels should be walkable — enough so that you can trek to a restaurant two blocks away (and back) in comfort. If you're buying your first suit, do check out our recent roundup of suits for every budget, as well as The Corporette Guide to Interview Suits!
A note on pants suits vs. skirt suits: Skirt suits used to be considered the most formal option, but pants suits are accepted almost everywhere these days. (Stay tuned — we'll do a poll very soon to get a broader voice on the topic.) Still, there are benefits to the skirt suit that make it worth discussing. First, if you're buying a budget suit, it's FAR easier to find a skirt that looks good by itself than suiting pants that look good by themselves. Second, if you're buying suiting separates, I always think you should seriously consider buying all of the pieces that are offered — and hey, you've got to wear the skirt suit sometime, right? (Pro tip: don't forget to dryclean your suiting separates together, too, so the wear is consistent.) Finally: if it's raining, snowing, or other nasty weather, I've always preferred a skirt or dress — nothing's worse than wet pant hems! (Proper rainboots are great for your regular commute, but if you're going to have limited options for changing shoes once you arrive, you may want to read our old advice on how to interview in a snowstorm.)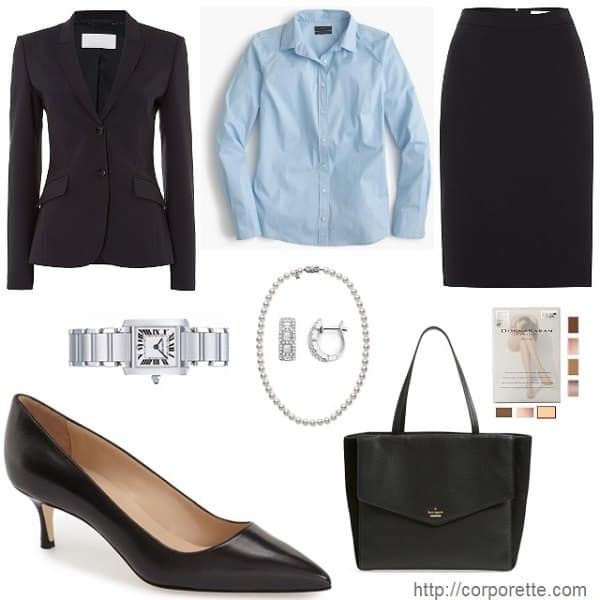 Pictured: Blazer / Blouse / Skirt // Watch / Pearls / Earrings / Pantyhose* // Heels / Tote*
* On sale as part of the Nordstrom Anniversary Sale — see all of our #nsale workwear picks here!
Work Outfit Idea with Block Heels
Block heels are super trendy right now, and you can wear them with everything from skirts, ankle pants, dresses, suits, and more. I'm a fan of the all-black outfit, though I do like to have a little pop of color in a lipstick or accessory. Here, I'm showing it with a pop of color with lipstick as well as a fabulous pink watch from Kate Spade, an inverted bun from our roundup of easy updos for work (so easy, even I can do it!), and, just for kicks, a diamond brooch. Brooches go in and out of trendiness, but I always think they're a classic, stylish look — with a higher neckline like this dress, I'd wear the brooch high on my shoulder, next to my clavicle bones. Obviously, it's easy to swap out a different brooch, a different color of metal, or go another way entirely.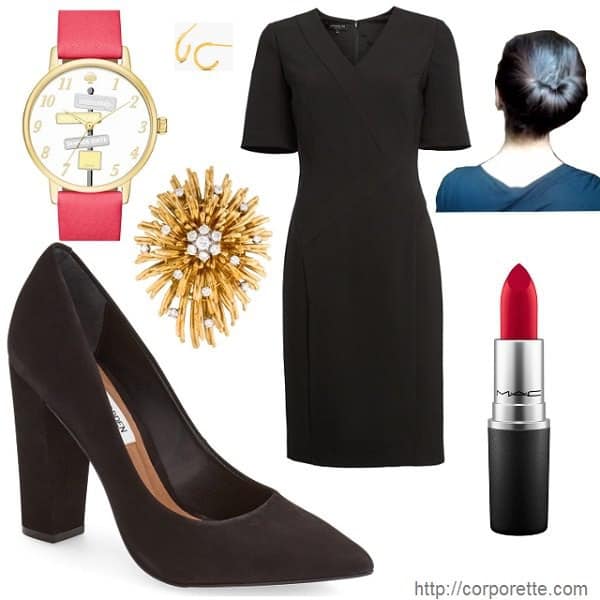 Pictured: Watch / Earrings / Brooch / Dress* / Inverted Bun / Lipstick (Ruby Woo) / Heels
Business Casual Work Outfit Idea
For the last outfit I wanted to use the evergreen color we saw so much of in the Nordstrom Anniversary Sale, but with a late summer/early fall vibe. Even though dark green looks great with navy, dark charcoal, and even deep purple, a lighter way to style it is with a great white or light gray blouse, with a few pops of a dusty pink. I often talk about a nice round necklace for some of your outfits — this "beaded collar" necklace that's part of the Nordstrom sale looks perfect.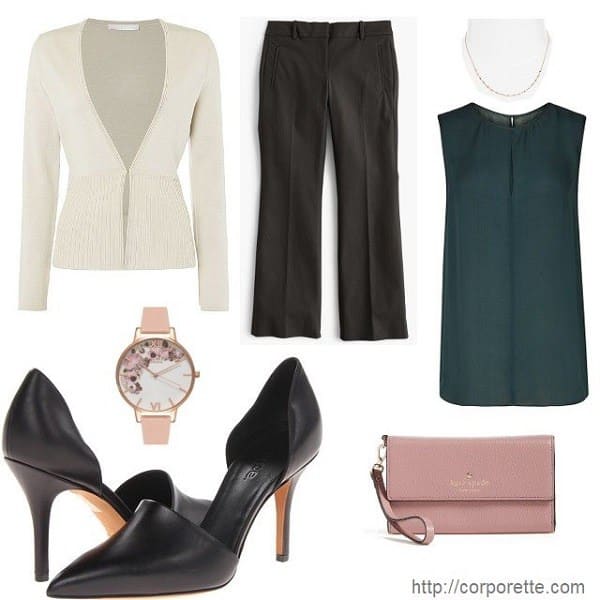 Pictured: Sweater (here also) / Pants (deep discount today) / Necklace (LOVE!)* / Blouse (on sale!) / Wristlet* / Heels / Watch
* On sale as part of the Nordstrom Anniversary Sale!
Ladies, what's your favorite way to wear black pumps? What's your classic interview outfit, how do you feel about all black outfits, and what colors do you like to wear with evergreen?