For busy working women, the suit is often the easiest outfit to throw on in the morning. In general, this feature is not about interview suits for women, which should be as classic and basic as you get — instead, this feature is about the slightly different suit that is fashionable, yet professional.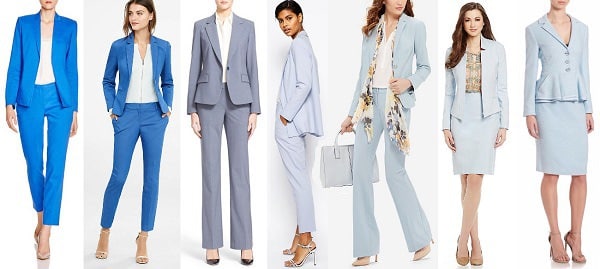 Pictured: Elie Tahari / Express / Theory / ASOS / Limited Collection / Antonio Melani / Nanette Lepore 
It's that time of year, ladies: blue suit time! I'm seeing a million suits out, so instead of featuring one in particular for our Suit of the Week, I thought we'd have a conversation about them in general: do you wear a blue suit during the spring and summer? Which shade of blue have you found to be the most versatile? What colors do you like to the wear the suit with, and do you wear the suiting pieces together or mostly as separates?
For my $.02, I was shocked when I first realized how versatile my light blue blazer was (it was a lighter gray/blue, almost the shade of the Theory or ASOS one above). I wore it a ton, mostly with black (pants, sheath dresses) and white tops and blouses, with the occasional pop of color like a red pendant necklace or purple heel thrown in. That said, while I've found the light blue blazer to be amazingly versatile, I think light blue pants or a light blue skirt can be a lot less versatile (although I suppose blue pants could take the place of my beloved staple, light gray pants). How about you?
If you're looking for blue suits in other sizes, here are some plus-size options (Talbots, Tahari, Lane Bryant), as well as petite options (Talbots, Brooks Brothers, Pendleton).