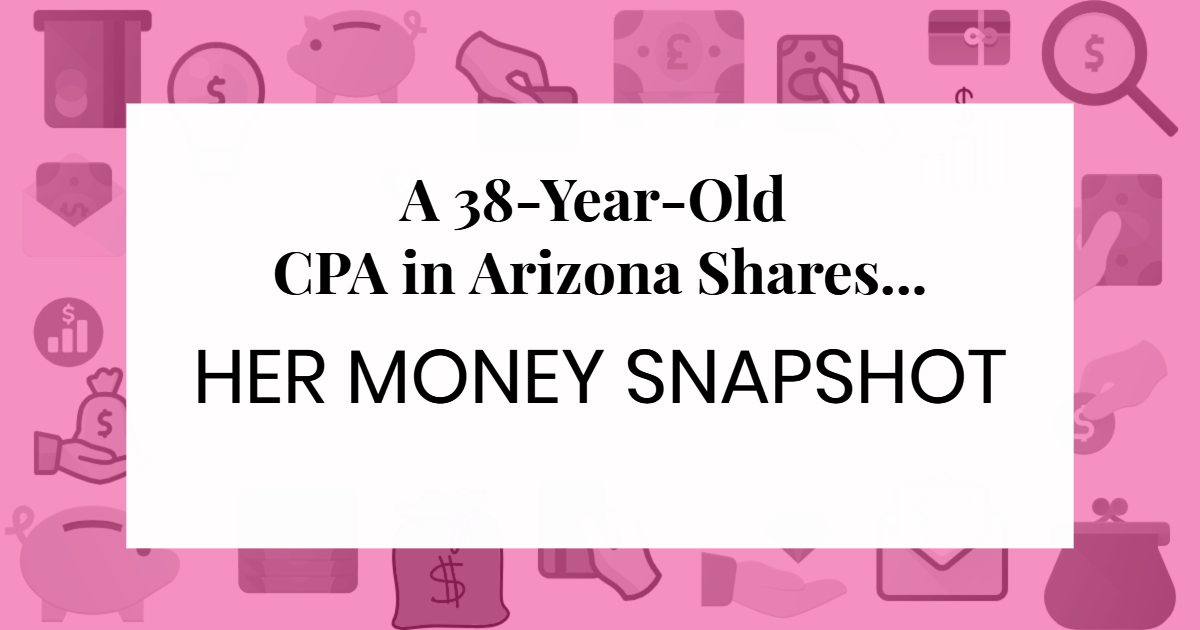 Presenting our fifth "money snapshot," this time with a CPA in Arizona! She notes: "I save approximately $40,000 after tax a year. This is my side-job income after tax. I try and spent half of it on meaningful purchases such as building my current house, and save the rest long term. … [My goal is to] pay off my house and afford to live on only my side-job income."
By way of background: We got a few requests from readers to launch our own "money diary" series, so we've asked willing readers to fill out a form with lots of details about debt, spending, saving and more! If you'd like to fill out the form and be considered for a future personal money snapshot, please click here to submit your response! You can see a PDF of the questions if you want to review them ahead of time. See others in the Personal Money Snapshot series here.
Please remember that this is is a real person who has feelings and isn't gaining anything from this, unlike your usual friendly (soul-deadened, thick-skinned, cold-hearted, money-grubbing) blogger — so please be kind with any comments. Thank you! — Kat
Name: AZCPA
Location: Arizona, LCOL
Age: 38 [now 39]
Occupation: CPA
Income: Salaried job: $155,000. Side job $55,000 gross, $46,000 net
Partner's age: 43 (live together, intentionally not married, not having children)
Household income: $220,000
Net worth: Not including partner, net worth $400,000
Net worth when started working: Worked part time in high school (16). Started FT at 22 after college — net worth was $5,000.
Living situation: Own 4/2 single-family home, mortgage $2,000/month.
We asked what AZCPA meant when she wrote "intentionally not married," above, and she explained:
I wrote that to indicate that we were stable/happy as we are, rather the necessarily seeing this as a step towards marriage, or that I'm waiting for him to propose or anything. There is a financial impact — we'd pay a ton more in taxes, and my boyfriend is likely going to do another degree; he'll get infinitely better financial aid single. But if we were dying to get married we'd probably do so regardless.
Debt
What does your debt picture look like?
Mortgage $300,000, car $20,000. No CC or other debt.
How much money are you spending each month to pay down debt?
$2,400 on mortgage and car combined
How did you pay for school?
Scholarships and one 30-hour/week job
Have you paid off any major debt?
n/a, never had non-mortgage/vehicle debt
Home debt:
My current home is the third I've owned. First was at 24; built current home in 2017. This is intended as the permanent/dream home. Looked at existing homes for two years before deciding to build a semi-custom home (chose from four set floorplans in a 24-home new subdivision, but all interior finishes and many options such as bathrooms were custom). Based on income and assets, wanted to pay ~$350,000 for the house and planned $50,000 for backyard, furniture, etc. Took out a $300,000 30-year mortgage and paid cash for the rest. Was an optimal price point for the area and features — well above median for Tucson, but easy to sell if needed. Am inside city limits, with all city services (a huge perk in Tucson, as "rural" fire and water service are very expensive). A similar home in an equivalent area in Austin inside the city limits would be $750,000, or $1.2M in San Diego (other places I looked to live).
Savings, Investments & Retirement
How much do you save for retirement?
$25,000/year
How much money do you allocate to other tax-savvy investments/accounts?
When I could do an HSA, I put in the max allowed. I currently have an FSA, and I contribute ~$2,000 annually. No 529s, as no kids.
How much do you save outside of retirement accounts?
I save approximately $40,000 after tax a year. This is my side-job income after tax. I try and spent half of it on meaningful purchases such as building my current house, and save the rest long term.
Talk to us about investments.
I keep it simple, using target funds and index funds. When I bought my first Mac in 1998 I also bought $1,000 in Apple stock, which I still have.
Do you have an end goal for saving or are you just saving for a rainy day?
I want to pay off my house and afford to live on only my side-job income.
When did you start saving seriously? How has your savings strategy changed over the years?
I've always been a saver.
How much do you have in cash that's available today?
$5,000
How much do you have in cash that's available in a week?
$77,000
How much is in your "emergency fund," and where do you keep it?
$50,000, included in above
How much do you have in retirement savings?
$350,000
We asked AZCPA about her impressive retirement savings and whether she's planning to retire early:
I honestly don't know. I really just want enough savings to be able to be flexible and enjoy wherever life takes me. Since I'm hoping to live on my side job once the house is paid off, I'd like to front-load my retirement as much as I can now, while I have a higher income.
How much $ do you have in long-term investments and savings (CDs, index funds, stocks) that are not behind a retirement wall?
$50,000
If property values (home, car) are included in your net worth, how much are those worth?
home $400,000, car $24,000
AZCPA told us more about her job on the side:
My side gig is a boutique tax practice (my main job is tax-related for a major corporation). I was in public accounting a long time and had a number of clients who desperately wanted to stay with me when I left. That was the start. Now I have part-time employees to assist me as the business grows. I was super used to working tons of hours at a CPA firm (like 100 a week), so even two jobs doesn't feel that hard on comparison. The side gig is somewhat seasonal, so a lot of the year its only five hours or so a week.
Spending
How much do you spend on the following categories on a monthly basis?
Groceries: $400
Restaurants, bars, takeout, and delivery: $400
Clothing and accessories: $800
Transportation: $475
Rent/living expenses: $2,500
Entertainment: $25
Health care — premiums and other costs: $25/month for insurance through employer
What's your spending range for these things? What's your average?
Vacations – Range: $500–$8,000
Vacations – Average: $4,000
Individual items of clothing – Range: $40–$300
Individual items of clothing – Average: $30 for tops, maybe $50 for pants/shoes — I buy almost exclusively on sale or Poshmark for those items. But I do own two four-figure designer bags (both purchased at half their MSRP from Poshmark), which would drive up the average dramatically!

Apartment or house – Range: $200,000–$400,000
Apartment or house – Current main residence: $400,000
Car or other vehicle – Range: $15,000–$50,000
Car or other vehicle – Last purchase / current main vehicle: $35,000
Fill in the blank on this question: I could save _____ if I stopped ______, but I don't because _______.
I could save $500/month if I stopped eating out, but I don't because I enjoy it.
At any point in your life to date, has inheritance played a role in your money situation?
Never
Money Strategy
Do you have a general money strategy?
No
What are your favorite resources for personal finance?
Mint
What advice would you give your younger self about personal finance?
Keep saving.
Photo credit: icons via Stencil.