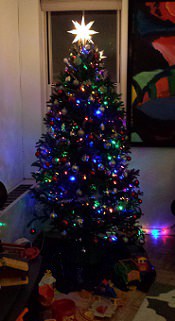 I've seen a lot of friends Facebooking and posting about holiday stress, so I thought we'd have a discussion about it today. Here are the questions:  Do you get stressed out around the holidays, and why? (Seeing family? Leaving on vacation? Year-end office stress? Gifts?) How do you deal with the stress? (Mantras? Better personal care, such as working out more regularly or treating yourself to a massage?)  On the flip side — for those of you NOT so stressed, share with us what you like about the season! What do you enjoy the most?
For my $.02, I tend to enjoy the holidays more than stress about them, but that hasn't always been true. We almost always spend the holidays visiting my family in Ohio, and back in my law firm days it was always hectic trying to get out of the office on time (and without feeling like I needed to ship a box of paperwork to my parents' address). In my single days it seemed to make me feel my most un-coupled (I won't say lonely since I was always surrounded by family and friends, but not being coupled can be a source of stress in and of itself); now that I do have a husband and child it can be stressful to get the right thing or create the right environment. (For the first time in my adult life I have a Christmas tree (pictured)! Amazing!)  As for what I enjoy, I love seeing the cards and messages that come from family and friends, and I love to take stock of how the year has gone (for the business, for the family, for the apartment, etc, etc). In terms of how I get through it — we try to eat healthy and avoid alcohol on the days that we don't have social events, and I try to get at least 20 minutes of exercise every day because, everyone can find 20 minutes somewhere, right?
Readers, how about you — is the ending of the year a source of stress or happiness for you? How do you get through it?