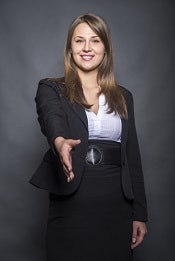 What qualities should you look for when you hire someone? Reader G wonders, particularly with regard to legal assistants:
Can you do a post about tips for interviewing and hiring a legal assistant? I'm a newer attorney and I share a legal assistant with two other attorneys. What should I look for in a new assistant? What questions should I ask during an interview?
Very interesting question, G, and I can't wait to hear what the readers say — we've talked about delegating work, how to inspire a lazy secretary, and whether you should be friends with your staff, but never how to hire help. I've been reading a million articles on hiring people myself but aside from contract workers and virtual assistants I don't have direct experience with this myself.
A few links that may help:
I'm totally unfamiliar with Lorman, but their site has a great post on how to hire a legal assistant or a paralegal (and the differences between the two).
FindLaw's Strategist blog has a list of ten things every attorney must do before hiring a legal secretary or paralegal.
On a more general scale, Inc. has a great guide for how to hire an executive assistant; I've also seen Inc. columnists suggest the top five rules to hiring right the first time. (That's one piece of advice I've seen a lot — hire slowly, fire quickly.)
Finally, call me paranoid, but Reader G — as the newest attorney AND the woman of the bunch — may want to carefully screen assistants to make sure that personality-wise, the person will want to help G. If I were G I might ask questions about how the candidate will prioritize the work given to her from the three attorneys, as well as when (and who) she will ask for help.
(As a lawyer, I'd hate to hire an assistant who came to me with every question about Attorney #2 and Attorney #3's work, but I'd also hate to hire an assistant who never asked questions or went down the wrong path repeatedly).
Amazingly, I can't seem to find any specific advice for women on hiring assistants — readers, do you think young women need to be especially careful when hiring assistants? What are your best tips for hiring assistants? 
(Pictured: Shutterstock/Pekic.)
This post contains affiliate links and Corporette® may earn commissions for purchases made through links in this post. For more details see here. Thank you so much for your support!