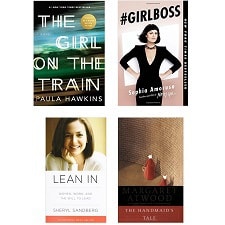 Is anyone else excited that summer is almost here? On the off chance anyone has some down time this summer, let's discuss: which are the best books to read for fun? Which are the thrillers you couldn't put down — the rom-coms that warmed your heart — the memoirs that made you laugh, cry, think? Which authors do you eagerly follow and read pretty much anything they write, and which best sellers were worth the hype? 
I'm happy to report that I'm reading books again — a few months ago I got a Kindle Paperwhite after hearing readers raving about them, and so I've been getting a ton of books out of the library as well as buying old favorites to "keep" on my Kindle. I'm also a fan (particularly for nonfiction or memoirs) of getting audio books out of the library.  Some of my recent reads (and likes):
Fiction I've Enjoyed Recently:
Non-Fiction Books I've Enjoyed Recentlyish
#GirlBoss, by Sophia Amoruso – Yes, yes, I just got around to reading this one — I love that The Washington Post apparently called this "Lean In for Misfits."  I got the audiobook out from the library and died laughing on a few walks — her story is really inspiring to me.
Bossypants, by Tina Fey.  I loved this book, although admittedly I read it a few years ago now. I liked it better than Mindy Kaling's book, though, which I read more recently (well, halfway through), and I have yet to read Amy Poehler's book (it's on my short list!). I've also been thinking of reading Nora Ephron — I'd love any other suggestions in the funny-lady genre if you have any favorites.) 
The Run of His Life: The People v. O. J. Simpson, by Jeffrey Toobin — This book was the basis for FX's American Crime Story, and I remembered liking the book a lot when I first read it for a college class, so I thought it might be interesting to reread.
Nutrition books: The Body Book: The Law of Hunger, the Science of Strength, and Other Ways to Love Your Amazing Body, by Cameron Diaz – I got this out as an audiobook after hearing great things about it.  I'm only halfway through — it's nothing new if you're into nutrition, but it's solid advice, told in an interesting way. A similar but older book that I enjoyed reading: Why We Get Fat: And What to Do About It, by Gary Taubes. Also along these lines: VB6: Eat Vegan Before 6:00 to Lose Weight and Restore Your Health . . . for Good, by Mark Bittman — I got this out of the library and it's a great book to flip through and get ideas for vegan meals.  (I am by no means a vegan, but the older I get the more I think that the more vegetables and legumes and whole grains, the better.)
I read this book a while ago, but an honorable mention to Battle Hymn of the Tiger Mother, by Amy Chua — this woman is Intense with a capital I, but I thought it was a really enjoyable read, even if you aren't entirely sure who you're rooting for in the book — and it's the kind of book I'm sure I'll reread later. The Barcelona vacation chapter has stayed with me…
Old Favorite Books I'm Due to Reread
Ladies, let's hear it — what are you eager to read this summer? What have you read recently that you really enjoyed?  What's your favorite kind of book to read, and how does it compare to podcasts, magazines, blogs, etc? (Check out our last discussion of the best podcasts for working women, as well as my favorite magazines — and our last discussion on brain candy books.)