2017 Update: We still stand by this advice for women and drinking too much, but you may also want to check out our more recent discussion of women lawyers and drinking.
Ladies: how do you feel about drinking? Do you think overachieving women tend to drink more? We haven't talked about this for a while, but it's been on my mind with various news articles I've seen, and with the holidays coming up I thought we'd discuss. (I don't want to totally rehash my thoughts from our 2010 discussion on this, but I still agree with all of them…)
First, the articles and propositions I've been thinking about:
Women drink a lot, particularly high achievers. There have been numerous articles over the years (WSJ, Gothamist, Real Simple) about how high-achieving women drink — a lot. A reader linked to this fascinating article in The Atlantic about drinking as an escape from perfectionism.
It's becoming more accepted these days that you can recognize a drinking problem (or at least, wanting to drink less) without identifying as being addicted to alcohol. Lisa at Privilege just updated her post about cutting back drinking — I think she's gotten a ton of pushback over the years to the idea that anyone who "needs" to drink less isn't an alcoholic. YET, there have been numerous articles about how Alcoholics Anonymous really isn't that great for women (see Jezebel, but also see The Atlantic), and there's been an increase in articles and programs about how to drink less or otherwise drink moderately (Real Simple, Drink Smarter, Moderation Management, Moderate Drinking, Caitlin Padget). I often think about Gretchen Rubin's theory on abstainers vs. moderators in relation to this, also.
Public health guidelines on drinking may seem… severe. One of the things that Lisa notes is that the recommended number of drinks per woman is no more than one per day or 8 per week; for men it's two a day. (Forbes actually has a great roundup of the myriad — and conflicting — guidelines out there.) One glass of wine a day always strikes me as a nice goal — but I'm more likely to accomplish the "no more than 8 per week" by abstaining several nights. Yet when I saw this recent news story about champagne and dementia — suggesting that "moderate consumption" of three daily glasses of champagne made a dramatic difference in keeping dementia at bay, I thought, "geez, that's a commitment," mostly because I'm not a huge fan of champagne. It now looks like that study was misreported and they meant three glasses a week — I suppose that's more doable (pending further research, obvs). #goals
For my own $.02: I absolutely drink too much, at least by the "no more than one drink a day" standard. (I probably drink about 15 drinks a week on average.) I can't think of a woman I know who doesn't. Part of that is New York culture — and part of that is definitely Big Law culture, where I got my main drink on — drinking with friends from law school mostly, but also drinking with colleagues at afterparties and non-work outings. (Another article I think about often: This poor woman lawyer, who got so drunk she almost wound up losing her arm. I consider myself extraordinarily lucky that nothing crazy ever happened to me.) I had no problem stopping drinking during my pregnancies or while nursing, but I was happy to pick it up again when we were done. These days, I generally know my limit as far as hangovers go, and I don't drink to excess often, but I'd still like to cut back — in addition to all those general health reasons, drinking is hands down the biggest saboteur to my diet. (I'm back to WW, but in the past I tried the slow carb diet specifically because it allows two glasses of wine per day. For me it didn't work — my husband lost 20 pounds extremely easily, while I lost and gained the same 2 pounds over and over again.)
As far as drinking and legal culture goes, a good friend and I were discussing this (she's a former attorney), and she had these wise thoughts to share:
FWIW I do remember feeling pressure to drink as an attorney, but not as an escape – rather, I wanted to impress the older male partners at the firm. It seemed like a way to get in with the old school – have a scotch or two at the office at the end of the day, try to learn a few tricks of the trade, etc., show that I could hold my liquor 'like a man.' Similar motivation to wanting to learn how to golf – like that would have made a damn bit of difference! once my partner actually ordered me to drink wine at lunch we were on, and I came back and had to put my head down on my desk. I never got in with the old school anyway so my big plan failed.
In terms of moderation — at the moment my husband and I try not to keep full bottles of liquor in our home, and we've found that we really don't do well with a Bota Box (even though it honestly is one of my favorite wines as far as taste!) , but we indulge in cocktails when out, occasionally buy a few airplane bottles of whiskey, tequila, or gin to keep in the house, and almost always have at least one bottle of wine available. I also try to focus on portion control — I have one glass that holds exactly 4 ounces of wine, and I try to use that whenever possible. (Almost every other wine glass we have easily holds double that!) I've searched in the past for glasses specifically focusing on portion control, and it looks like there are more options available now, as well as the more comical options that existed in the past. Pictured below: Caloric Cuvee, Mr. Picky Stemless Wine Glass (the brand has several options available), and Wine-Trax; all $9-$19 at Amazon.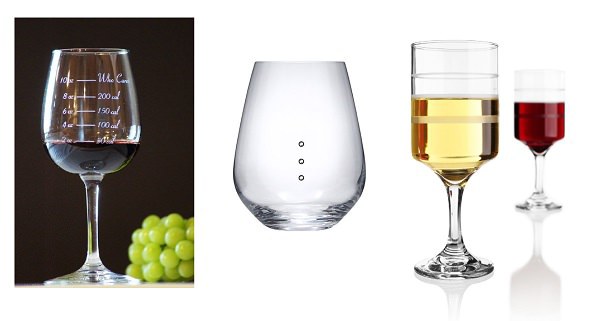 I don't know, ladies — what are your thoughts? Do you drink too much? Would you be embarrassed if someone else (e.g., your parents or a younger sibling) found out how much you drink? Do you have rules around drinking? (One of my big ones when younger was "never drink alone.") Have you ever tried to moderate your drinking, either successfully or not? (And: any plans of attack for the holiday season?)
Psst: we've also talked about what your drink says about you.
Pictured: Amy Schumer's Football Town Nights.