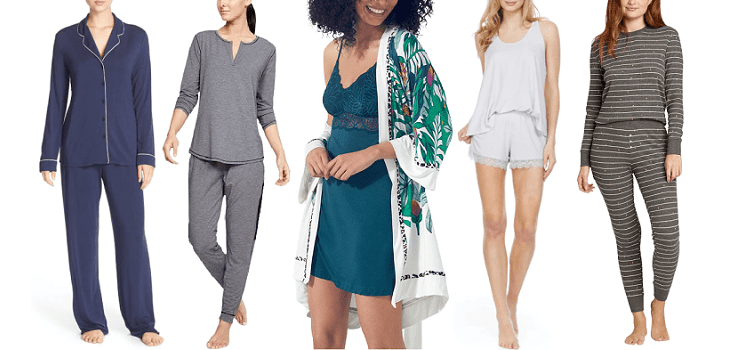 Some of the readers' favorite PJ brands: blue / gray / teal chemise / lavender / stripey (not pictured but also!)
All right, ladies, let's talk about something near and dear to my heart: pajamas. Do you treat yourself and sleep in luxurious fabrics like silk — or pull our your old college t-shirts and boxers to sleep in? What brands are your favorite, and how have your pajama choices changed over the years?
If you're curious about MY choices: I've alternated between mismatched PJ bottoms and fancier (but not va-va-voom) chemises over the years for regular sleepwear. In my college and law school years I usually wore a yoga top (with a shelf bra) with PJ bottoms from spots like Anthropologie, although I remember getting a ton of PJs from Chico's because my mother had gotten a gift card and regifted it to me.
A few years ago I discovered the brand Midnight by Carole Hochman, and her chemises seemed to be the perfect mix of all worlds — not too sexy but not too frumpy, comfortable, and machine washable — and for a few years I exclusively wore chemises. (The gorgeous pink one pictured (from Natori) was about my speed — more pretty than sexy, and machine washable.) After my eldest son got to the toddler stage I felt a bit funny running around the apartment in a chemise on the weekend, so I started buying PJ pants again, and now I'm back to those, but worn with a proper t-shirt and sleep bra.
Pictured: pink chemise / art deco pants / blue jogger pants / green PJ set
Here's another question: do you buy t-shirts just to sleep in, or do you just wear old ones? I feel like Marie Kondo would slap my hand, but I can't bring myself to pay money for a t-shirt to sleep in when I have so many old ones with holes or other fit problems. I have one matched PJ set for when we stay over at my in-laws, similar to the green one pictured above, but I feel odd wearing it, like I'm pretending to be someone else.
As for sleep bras, this may or may not be an odd preference — I haven't talked about it with many people, to be honest. I began sleeping with support in my mid-20s but would just buy regular yoga tops with shelf bras to wear to bed. Now after nursing two kids, I'm just more comfortable sleeping with a sleep bra but prefer something looser/less low-cut than a yoga top.
When I was nursing I loved (looooved) this Bravado bra for sleep, and I continued to wear them even after I stopped nursing. Those bras are looking a bit worn, though, so I recently went on a hunt for a non-nursing sleep bra, trying this Champion bra (which hilariously is marketed as a sports bra — I practically fall out of it for sleep, so I would never wear it for any activity) and trying and actually liking this $19 infomercial bra. (I'm not a fan of them, but I know a TON of people love the Coobie bra for sleep or lounging.)
In terms of which PJs I wear, I still like to splurge on Anthropologie ones or fancier ones from brands like Josie (these are super soft!) or the fancier line, Natori.
I don't yet have problems with night sweats or the like, but I recently tried these "Cool Nights" PJs from Soma (owned by Chico's) — mostly impressed because they have a petites section for PJs — and fell in love with the silky but washable fabric.
I'm also in love with Make + Model PJs from Nordstrom. I actually have the gray stripey ones I featured here (but a slightly different fabric blend than the ones pictured — mine are 50% polyester, 46% rayon, 4% spandex) — they're a ridiculously soft fleece inside.
So let's hear it, ladies — what do you wear to bed? Which are your favorite brands; what do you look for? Do you buy special sleep t-shirts, or wear sleep bras?
This is an occasional feature where we take a deeper look at weekend wear for professional women. Curious for more bra talk? Check out our top style tips for busty women, as well as my tips for bra care.
Psst: I'm still laughing about the Jammie Shuffle from SNL a few years ago, as well as this hilarious Buzzfeed post that discussed the 1930s advice about the four types of pajamas a single girl should own.
Some great sleep aids if you're struggling with sleep issues…