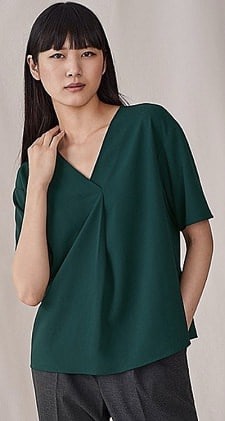 Our daily workwear reports suggest one piece of work-appropriate attire in a range of prices.
This V-neck blouse at Uniqlo has a bunch of positive reviews, comes in four colors, and is only $19.90. I've heard a lot of great things about how people love Uniqlo's washable blouses and how they hold up — and many of the reviewers note that they're soft, they don't wrinkle, and so on. If you're looking for a basic blouse to wear underneath a suit, this is a good bet, and I think this would work with high-waisted looks like we've been featuring lately, or just layered underneath a cardigan. It is a little bit on the drapey side as opposed to fitted — which can be a good thing — and I like the V-neck and the almost elbow-length sleeves. It comes in sizes XXS–XXL. Note that Uniqlo also has a great tweed jacket right now for $79.90. Pictured: Drape V-Neck Short-Sleeve Blouse
Two plus-size options are available in dark blue (Macy's) and ivory (Saks OFF 5th).
Moderation Update: I really value this community, as I know you guys do, and I'm trying to figure out the best way to address the complicated issues we've been having (whether via a post or policy page update, a Facebook Live Q&A, or a readers survey). The old system for moderation has not been working so well lately both due to 1) tech problems caused by software updates and changes in response to new European privacy laws, 2) troll problems, and 3) civility problems, and for the past few weeks we have been testing new systems to see what's feasible for us and what works. (For those of you who don't think it's been that bad, you haven't seen the comments we've deleted.)  I haven't wanted to update anything officially because we're just testing different things right now, and no changes are yet permanent, particularly because we still have a changing tech environment. Starting today, we're testing a new system that will allow comments with email addresses to get through unmoderated — but only after you've you've had one comment attached to that email address manually approved. Note that your email address will not be published, your user name can still be anonymous, and you can read our full Privacy Policy here. (Unfortunately, note that if you were previously in the moderation queue for violations of our commenting policy, you will still end up in the moderation queue.) If you'd prefer to stay totally anonymous and not add an email address, then we're doing our best to keep the moderation queue moving as quickly as possible. To recap: I love the community as much as you guys do, and we're doing our best to give you the best user experience possible. Thank you for your patience, and for reading! 
This post contains affiliate links and Corporette® may earn commissions for purchases made through links in this post. For more details see here. Thank you so much for your support!