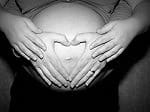 My friend F emailed today, noting that this is her last day in the office before maternity leave, and she is wondering what to put in her "out of office" message. Should she say "leave of absence" or "maternity leave"? Furthermore, she's taking a six-month maternity leave — should she put that in her email, or will the clients (she has too many occasional ones to give each an individual head's up) freak out if they hear "November"? (Pictured: Baby Bump Love, originally uploaded to Flickr by teefaye.)
For my $.02, I forwarded my other friend C's out-of-office message, which says simply "I'm out of the office on maternity leave. If you need assistance, please contact my assistant at _____________." I like this message: it's clear that it's maternity leave and not some sort of sabbatical or dangerous health-related thing, and while I know that C is taking six months as well, this omission from her email doesn't seem glaring. (I'm not even sure the length of the leave is that relevant — after all, my guess is that both C and F will be checking their work email anyway while out on maternity leave — if anything needs a direct response the client will have it soon enough. Alternatively, the OOT message can be changed — you can give your return date when it's a month or closer.)
But I'm curious — readers, what is your take on maternity leave messaging? What do you say on your email and voicemail OOT messages? Do you think there's a reason to be vague about the reason you're out of the office?
Psst: Check out CorporetteMoms for more working mom discussions, as well as our pregnancy newsletter!
This post contains affiliate links and Corporette® may earn commissions for purchases made through links in this post. For more details see here. Thank you so much for your support!