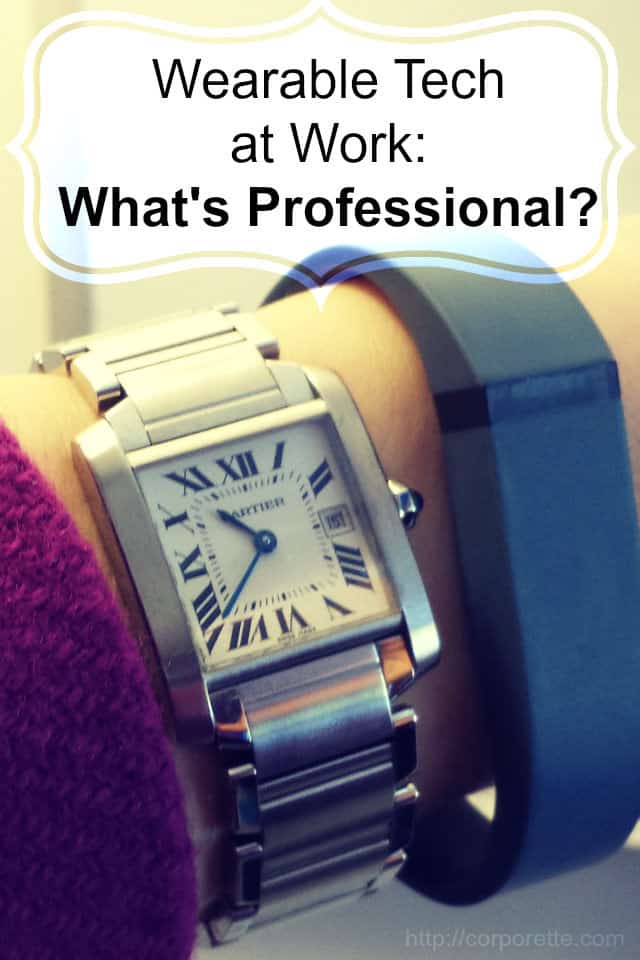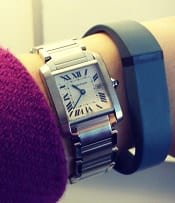 2018 Update: We still stand by this advice on whether or not fitness trackers and smartwatches are office-appropriate, but you may also want to check out our post about how to stay fit in winter.
Can you wear Fitbits, Jawbone Up bands, and Nike Fuelbands to the office? Are there types of wearable tech that you shouldn't wear to work? Reader C wonders:
I've been wondering lately about wearable gadgets and which ones are appropriate for the office, specifically in big law. I've recently fallen in love with my Nike Fuelband (in tangerine) for keeping track of my running or walking stats, but I don't really wear it in the office for fear that it's too sporty looking. Thoughts? Additionally my boyfriend (also a lawyer) has been considering the Samsung Smartwatch. Is there a category of wearable tech that is more work-appropriate?
Interesting question! I know many of the readers have talked about Fitbits, and we've mentioned some of the jewelry you can buy to "jazz up" your Fitbit. We've talked before about how watches are still a good thing to wear because they imply that you're a responsible, time-sensitive person — I would even go so far as to say that a Fitbit is a good thing because it suggests you're interested in health and, to a certain extent, data and analytics. (The WSJ even recently noted that CEOs were wearing them because it was part of their competitive nature.) So here's my $.02:
Wearable tech isn't inherently unprofessional. Is it the most fashionable look? Nope — but there's nothing unprofessional about it.
Watch out for crazy colors. A black or dark blue wristband is one thing — a neon pink one is another thing entirely.
If the wristband is getting grubby, invest in a new one. This is totally hypothetical, but I've had enough sports watches over the years to know that they do eventually start to show wear — so keep your rubber wristband in good shape.
Readers, what is your take on wearable tech at the office? Do you think Fitbits and the like are unprofessional — or do they silently convey good qualities?
—————
N.B. PLEASE KEEP YOUR COMMENTS ON TOPIC; threadjacks will be deleted at our sole discretion and convenience. These substantive posts are intended to be a source of community comment on a particular topic, which readers can browse through without having to sift out a lot of unrelated comments. And so, although of course I highly value all comments by my readers, I'm going ask you to please respect some boundaries on substantive posts like this one. Thank you for your understanding!