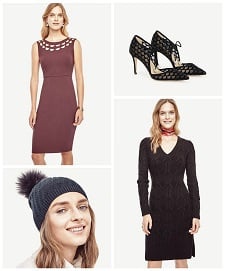 Disclosure: This post is sponsored by Ann Taylor, but written by your usual friendly blogger Kat Griffin.
Good news, guys: Ann Taylor is having a one-day sale and halving prices on a TON of great items, whether for you yourself to wear to work, or to get as gifts for your friends and loved ones.  (Only the new arrivals are excluded, alas!)  Some of my current favorite items are priced $30-$114 after you use code HOLIDAY50. Note that today is the last day for standard shipping to get orders before the holidays.
Pictured at top, clockwise: blackberry dress / mesh scalloped heels / sweater dress / pom hat. 
Some favorites, below: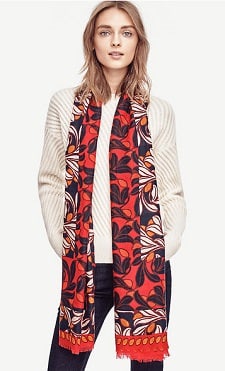 As I've mentioned before, I love this vine print Ann Taylor's been showing this season. While bold women will want to wear the dresses or blazers showcasing the pattern, the pattern (and strong orange color) is much more wearable as a scarf.  Vine Print Scarf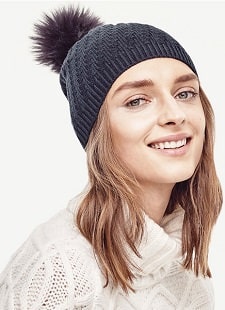 It's the constant struggle: finding a cute hat that doesn't make you look 20 years older — or younger — than you really are. This great acrylic/poly hat with a fun diagonal weave looks perfect. It's pictured here in navy, but it also comes in chianti and black. Ribbed Pom Pom Hat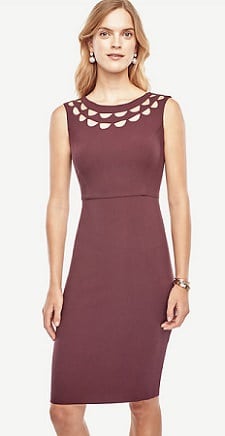 This cutout scalloped dress looks graceful and unusual — a perfect desk to dinner option.  (Just throw a blazer or sweater over it at work if a bra strap peeking out isn't exactly your style.) It's pictured here in washed blackberry, but also comes in black in regular, petite and tall sizes, 00-18. Cutout Scalloped Dress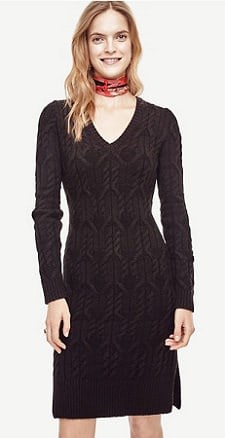 This cable sweater dress looks like a hit. I love the chunky cable knit, as well as how soft it is. It's available in regular, petite, and tall sizes XXS-XXL, for $149 full price, $74.50 after using code HOLIDAY50. (I also kind of love the "silk little" they've styled it with here — readers have long been apprehensive about wearing scarves this way, but I think if you have any interest in it, now is a great time to get into the style. Particularly when viewed alongside chokers and bandanas, it's a more sophisticated, feminine take on a very similar look.) Pictured: Cable Sweater Dress
I'm loving all of their shoes right now, too — but there are a LOT of lucky sizes left, so filter by that before you fall in love — most shoes are also marked 50% off.
Pictured below: booties / velvet leather pumps / Mary Jane pumps / mesh scalloped heels