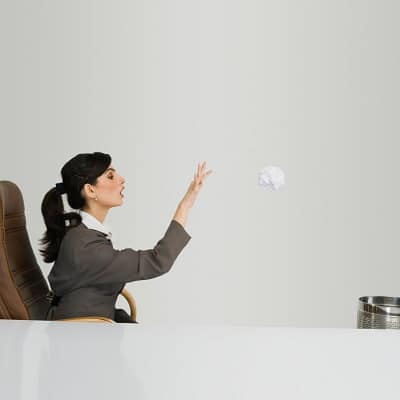 Here's a random question for today: how often do you clean your office cabinets or desk drawers? How often do you move old files into storage, or send them to the shredder? On the home front, how often do you clean your cabinets, pantry, and freezer? How often do you wash your makeup brushes? How often do you clean your closet and actually get stuff out to be donated or recycled? How often do you throw away old tax documents? What other tasks like these things do you do — and how do you remember to do them? 
(We've talked in the past about how to organize your office, how to schedule repeating tasks, how to spring clean your office, and shared thoughts on decluttering, donating, and more.)
For my $.02, I almost never do these things! Over the past few weeks I've tried to clean a cabinet here and there (filing cabinets, as well as kitchen and bathroom cabinets) and have been surprised how amazing it feels to throw away stuff that's totally expired (for kitchen stuff) or irrelevant (office stuff). We just donated a ton of old kids' clothes — I just cleaned my makeup brushes  — and I just set aside a ton of tax documents for shredding. It feels great! The funniest thing to me is how momentum is really a big part of the efficiency here — it's so much easier to get rid of things when you're doing it in a full sweep. Some of the stuff at the back of my bathroom cabinet was half-empty drugstore stuff from 10+ years ago — insane. (Yes, we're recycling everything we can.)
How about you guys — what tasks like this do you do, how often do you do them, and how do you REMEMBER to do them? If you have assistants, do you ask your assistant to help you with the tasks or do you prefer to do it yourself?
Stock photo via Deposit Photos / imagedb_seller.