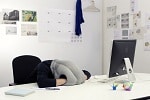 Do you nap at the office? What are your best tips for napping at the office (possibly without getting caught)? We took a poll on office naps a thousand years ago, but haven't really discussed since then, and I thought it might be an interesting topic.
First, some factoids from the Internet — according to Inc., researchers concluded in 2010 that "napping can improve the brain's ability to retain information, noting that a middle-of-the-day reprieve 'not only rights the wrong of prolonged wakefulness but, at a neurocognitive level, it moves you beyond where you were before.'"  More and more offices are adding nap rooms (or buying "sleep capsules," which give you a bit more privacy). (On the flip side, as Salary.com notes, some companies still consider it grounds for firing – know your office!)  For the DIY-nappers, there's even a fully funded Kickstarter campaign for a pillow that gives you a "micro environment in which to take a comfortable power nap" (pictured — you can now buy the pillow for $99). Apparently, in Japan napping is so popular among top executives that there's an entire culture around it. It's important to note that napping is not necessarily "sleeping" — and even if you normally take 30+ minutes to fall asleep at night you can reap the benefits. According to Lifehacker, Pzizz is a new tool that can help you "learn" to power nap (and help with nighttime insomnia too).
So, ladies — do you nap at the office? Is there a nap room or other space available for napping, and do you actually use it? Have you picked up any tips or tricks (signs on the door, special messages for your secretary, etc) that makes napping at work easier?
For my own $.02, I'll admit it: I occasionally took 20-minute naps at work, usually when it was a really intense work period. If it was 3PM and I was settling in for another nine hours of work, I didn't see the harm. I'd usually just lock my office door, set the alarm on my phone, and put my head down on the desk. (Pro tip, learned from one of my former colleagues: make sure your desk is clear of paper clips; those suckers really stick to your forehead!)  Very rarely, I would actually lie down on the floor. I didn't have a blanket at work, but I did have my trusty office wrap, as well as a calf-length sweater coat. (I'd bought the sweater on final sale somewhere for $15 and it was a disaster — I swear the sleeves grew two inches every time I put it on. Still, it was the perfect thing to keep at the office for chilly days, so long as I never wore it outside the four walls of my office — and if a coworker had to pop in with a question it was a lot more professional than a sweatshirt or, you know, bathrobe.) Even if I didn't manage to "sleep" for 20 minutes, I always felt refreshed — sometimes just closing your eyes and tuning out for a few minutes is just what you need.