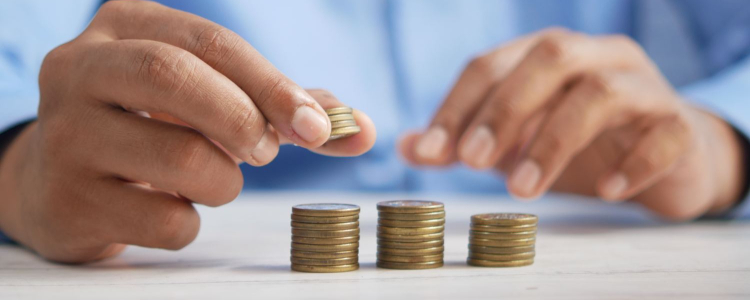 Today's topic in Tales from the Wallet: do you set financial goals for the year? I started setting explicit financial goals when I left my cushy BigLaw job a few years ago — I had been so comfortable there that I could easily move every other paycheck to an interest-bearing money market fund, and then I took a job at a nonprofit, making about a third of my former salary. Suddenly faced with the prospect of austerity, I decided to set financial goals for the year.
Every year, I've kept my goals short, choosing just three or four, and I've gone back at the end of the year to see how I did. In 2010, my goals were to "1) bank all Corporette income, 2) renovate kitchen within budget, 3) max out 401Ks, and 4) pay down at least $10K of (my husband's) student debt." A few years later, when my first son J. came along, the goals were to "1) save 10% of our income, 2) max out J.'s 529 on top of our savings, and 3) assess all investments and figure out fees, performance, etc." (That last one was a doozy and I wrote about it in our post on asset reallocation.)
This post contains affiliate links and Corporette® may earn commissions for purchases made through links in this post. For more details see here. Thank you so much for your support!
The "save X% of our income" goal is a mainstay on the goal list for me (sometimes 10, sometimes 15) and I've usually done a bit of planning to figure out how to get there. For example:
1. Find your savings target—what is 10% of your income? (Or 15%, or 20%, or whatever your goal is?) If you have a bonus or a commission-based income that makes this a moving target, it's OK to use last year's numbers for planning purposes. But it's important to actually set a number to the goal.
2. Consider ways to get there: 401(k), IRA, 529, HSA, non-tax-deferred investments. This is a matter of definition—does your 401(k) and other tax-deferred savings count towards your savings goal? Or do you want to save 10% of your income on TOP of what you put in your 401(k) every year? I've done a variety of things over the years; sometimes I've tried to save 10% on top of our 401(k)s and 529s, sometimes I've included those in the savings target.
3. Factor in what you're already doing. How much are you automatically putting in your 401K every paycheck? Assign a number to it. For example, if you put in $500 every two weeks, that's $13,000 a year — how does that affect your savings target?
4. Consider committing to other new ways of saving. For example, consider setting up automatic savings (or automatic investing) from your accounts as well — if you can automatically move $25 a week into savings, that's an additional $1,300 a year.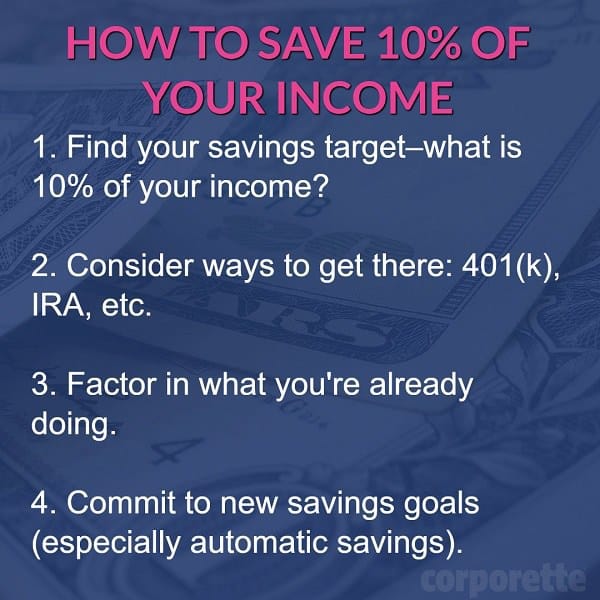 This can work for every financial goal you have. Let's say you have several student loans with varying interest rates. It's a great yearly goal to pick the loan with the highest interest rate and start chipping away at that one with focus to start paying down debt. Go through the steps: Quantify the amount; for example, "I have $6,225 left on the loan." That's $518 a month of principal, roughly. Quantify what you're already doing to get there by looking at your minimum monthly payment — and make sure you know how much of that payment is going to principal versus how much is going to interest. Next look at what you can add — how close can you get to the magic $518 figure to pay it off? Don't be too bummed if you can't get there in one year; just pick what you can do.
Another tip when trying to make extra payments to principal: Make the total an even number, even if it's just rounding up, because it makes the math easy when trying to figure out your budget. If your current payment is $151, can you add an extra $49 to the payment? How about an extra $149?) If you do manage to pay off a loan entirely, celebrate accordingly, but then take the entire payment you were putting toward Loan A (say $300 a month) and add that extra $300 to Loan B, the next loan with the highest interest. (Always pay your minimums on every loan, obviously.)
Other goals you might consider:
No new credit debt
Pay $2,600 towards my highest loan ($50 a week)
Save 10% of my income
Add $2,600 in my emergency fund
Max out my 401K
Finally figure out _[insert scary financial thing here ]_ (Roth IRAs, 529s, automatic investing, Vanguard, learn about personal finance, Mint, YNAB, whatever)
Save $500 a month (set it up with automatic savings!)
Earn an extra $500 a month (such as by freelancing, getting a side gig like babysitting, etc.)
Ladies, what are your financial goals this year? What have they been in the past, and what worked and what didn't? How do you choose and set financial goals for the year?
Updated images via Stencil.