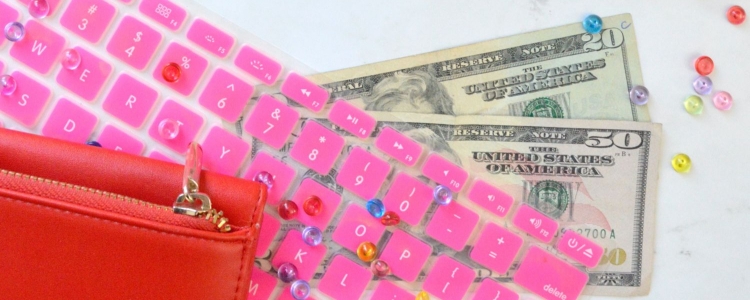 We've talked about tax-advantaged savings before, but I actually just helped a friend get set up for a Roth IRA, so I thought I'd share some findings, and open discussion to readers — do you save money in a Roth IRA, IRA, 401K, or other tax-advantaged savings vehicle? How much do you save — and what do you invest in? 
This post contains affiliate links and Corporette® may earn commissions for purchases made through links in this post. For more details see here. Thank you so much for your support!
How to Open a Roth IRA in 45 Minutes
In a time crunch? Here's how I'd spend my time…
15 minutes: Figure out which online broker you want. I've always done all of my investing online — my father started me a Schwab account as a graduation gift after college, and my husband and I started a Vanguard account together when we got married. They're both really easy to set up and maintain — I have a slight preference now for Vanguard because I feel like they have a wider selection of index funds and lifecycle funds, all with very low fees, but Schwab has them as well.
Two things of note if you're setting up a Roth IRA: Vanguard's minimum to open an account is $3,000, but Schwab's minimum is only $500. (I have no business affiliation with either of them — they're just what I'm familiar with personally. Readers, if you have other suggestions, please share.)
15 minutes: Fill out the paperwork. You can actually open an account online through both Vanguard and Schwab. For my friend, we downloaded a PDF, filled it out on the computer, printed it out, signed it, and slapped it in the mail.
5 minutes: Figure out how much to contribute to the Roth IRA. As a reminder: a) you can only contribute "earned income" (so if you're a student who made no money this year, you can't contribute anything). b) You can contribute a max of $6,000 (until you get older), and c) whether you meet the income limits — things start to get questionable (as of 2021) if you make $124,000 as a singleton, or $196,000 if you're married, filing jointly.
5 minutes: Pick which fund to invest in. Most online places offer a free consultant over the phone — ask about "low fee index funds" and see if they can direct you to a specific ticker symbol. In Vanguard the super popular ones are TKTK; in Schwab I'd look at SWPPX.
You actually have until the tax filing deadline to open a Roth IRA for this year, so there's no rush… but sometimes it's nice to get these things off your checklist by the end of the year.
Readers — do you contribute to a Roth IRA? In general, what age did you start saving for retirement — and do you wish you'd done it earlier?
(P.S. What other topics would you guys like to discuss (or revisit) for our next Tales from the Wallet?)