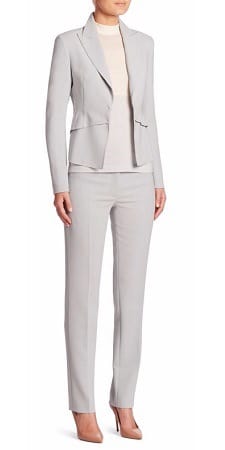 For busy working women, the suit is often the easiest outfit to throw on in the morning. In general, this feature is not about interview suits for women, which should be as classic and basic as you get — instead, this feature is about the slightly different suit that is fashionable, yet professional.
This ice gray suit is apparently one of Saks' top sellers right now. I've written before about my love of light gray suits — light gray pants particularly, because they're more versatile than white pants in the spring and summer. You could even look at this as an alternative to a winter-white suit — I think you'd get a lot more wear out of it because it doesn't have the stigma associated with white as being fussy and so forth. I like the very sleek, fitted style of the wool jacket, and the cropped portion is intriguing. The pants appear to fit well, and they have a classic straight cut. All in all, it looks like a great suit for work. The jacket (Akris Ice Cropped Wool Jacket) is $3,590, and the pants (Akris Maxine Wool Pants) are $895.
By the way, Saks has a ton of lucky sizes in Akris right now, so search your size — there are some serious markdowns like this dress and this dress.
Here's a more affordable suiting option from Boss (on sale at Nordstrom) — the pants are sold out, alas, but the sheath dress and jacket are still available (lucky sizes only).