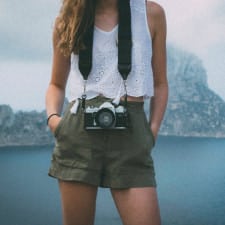 We got this question a while ago from Reader E, and I thought it's an interesting one for the hive: what's your best advice for how to wear shorts as an adult?  To the readers who wear shorts: do you feel like a certain style of short fits your weekend style? Do you have any favorite brands, or lengths? Here's Reader E's question.
I would love to see a segment on wearing shorts as a 30+ something female. Not to work of course, but in the summer, when its hot and only shorts will do, how do I still look presentable, chic and like a capable adult?
Very interesting question, E. Before I had kids, I mostly wore jersey or travel dresses in the summer for errands, brunch dates, shopping trips, and so forth. (Pro tip: look into Jockey Slipshorts to be comfortable beneath dresses!) I literally had one pair of shorts that I wore primarily for travel, like my trip to Sedona with friends (for Auntie M's 30th birthday, actually). After kids, though, my shorts collection has expanded, just because it's easier to crawl around on the floor, bend over, pick them up, and so forth.  Some thoughts:
How to Wear Shorts as an Adult
If looking chic is your goal, adding height (such as with wedge sandals or espadrilles) will go a long way towards helping you look put together. Failing that, choose actual shoes or sandals — not flimsy flip flops. (Still love these recently recommended ones!) A nice pedicure always helps here!
Ripped denim is fine (and very on-trend this year), but I think it's going to be hard to make a pulled together look involving ripped denim.
Add accessories as you would a regular outfit — a belt, a necklace, a scarf, whatever.
As far as shorts lengths and inseam lengths: I have some friends who wear relatively short shorts and look great. I don't think that just because you're over 30 means you automatically have to default to the Bermuda-length shorts. That said, I do have some "walking shorts" from Ann Taylor that have been some of my favorites, so there is that.
Tans, shaving, cellulite, and more: I say let your own comfort level by your guide here, if only because confidence is often the biggest key to pulling off certain looks. I have super pale legs, cellulite, a 2″ scar from my ACL surgery, and I don't really care. Personally I'm probably not going to buy anything shorter than a 7″ inseam, but that's me — if you want to, go ahead and rock it. I know that The 12ish Style just wrote a post for ManRepeller on how to wear shorts if you're "not a size 2," and noted that she found shorts with more of an A-line shape to them to be more flattering. I'm not sure I agree with that for my body type (where my hourglass has turned more apple since having kids), but that's me.
Over to you, readers — do you have any favorite shorts that you wear on the weekends? What do you wear if you're trying to look put together? (Would any of you wear them to work on the weekend?) (And, just for kicks, what does everyone think of the romper trend that is still going strong? Do you wear rompers on the weekend? Nordstrom has a ton of cute "cover up rompers," which I could see looking very cute around a pool.) Ohhhh, love the title here. 
Picture via Stencil.