Sure, we all know what basics professional women are supposed to have in their closets, but if you're buying one for the first time or replacing one you've worn into the ground, it can be a pain to find exactly the right incarnation in stores. In "The Hunt," we search the stores for a basic item that every woman should have.
I noticed a few weeks ago that readers wanted a Hunt for fit and flare dresses, so I thought we'd round some up today! (Update: check out our 2015 roundup of fit and flare dresses for work here.) I usually consider a "fit and flare" dress to be one that is fitted from the waist up, but A-line/fluid/flouncy/full from the waist down. (Interestingly, a quick Google for "what is fit and flare" turns up lots of wedding dress results.)
I generally think of the look as being less "classic work" than a sheath dress because it tends to be popular one season and disappear almost entirely the next — so, like the flouncy skirt, if you like this style on your body type, this is a great time to stock up.
The style is often described as "curve hugging" and with words like "flirty!" which make it seem like it's less work-appropriate, but I think all of the pictured dresses are totally work-appropriate for even the most conservative offices. Obviously, watch your skirt length and your sizing, but that's true of everything with workwear. One bonus with this style: there are a TON of budget options — almost all of my picks are below $100!
Readers, have you gotten any great fit and flare dresses recently? What defines a great fit and flare dress for you?
While there are very limited sizes of this black polka dot boxpleat dress at Dorothy Perkins left, never fear: DP has a TON of styles of fit and flare dresses, from boxpleat dresses (as pictured) to Bardot dresses (which seem to all have a much wider neckline that feature the clavicle) to skater dresses and more. This particular dress stood out to me because the pattern is fun, the length pictured on the model is great (it's 90 cm, or about 35.5″) and — hiyo! — it's marked to $17. Use code DPSHIP50 to get free standard shipping on orders over $50. Black Spot Boxpleat Dress
The Limited has had some version of a skater dress for several seasons now. (I couldn't find a good definition of what a skater dress is, but I always think of it as being a subset of the FnF dress — usually made of a jersey fabric, without other embellishments or decoration, and often a bit on the short side.) The pictured sleeveless version looks great, is available in four colors, sizes XS-XL in regulars and petites, and is marked from $59.95 to $35.97.Another option: this cap sleeve, high-necked fit and flare dress is available in very limited sizes and colors but has nice seaming details on the front (and, alas, an exposed zipper in the back). Pictured: Sleeveless Skater Dress
As mentioned above, for some reason there are a ton of great budget options for this style, and 6pm has a ton of brands that are already affordable (Eliza J, Donna Ricco, Muse) marked down even further. I particularly like the keyhole detail on this Eliza J dress — it makes the high neckline so much more wearable. The fabric is described in the promotional copy as "lace" but to me it looks more like a summery cotton/nylon blend. I'd wear it with a shrunken blazer and a matte belt for work. It was $89, but is currently marked to $39.99 at 6pm.com. Cap Sleeve Keyhole Tie Fit & Flare Dress
eShakti offers a ton of fit and flare dresses — and because you can customize the measurements, sleeves, hem length, and often the neckline, this may be a great option for women who have a hard time finding fit and flare dresses off the rack. I like this cotton pinstriped option — it's machine washable, has pockets, and looks fun and different but still professional. It's $64.95, but take 30% off sitewide. Split Neck Cotton Stripe Dress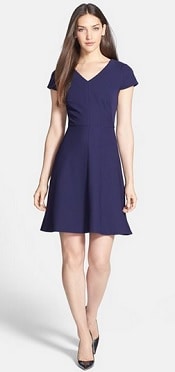 Look, sleeves! I like the subtle texture to this ottoman knit, and while the dress fits a bit short on the model, I'd guess 38″ would be fine for most women under 5'6″. Donna Ricco has a ton of great dresses in this style; this one is $118 at Nordstrom. Ottoman Textured Fit & Flare Dress
There are SO many affordable options in this category that I'm not sure one needs to go to a fancier version, but I do like the crispness to this navy fit and flare dress from Hugo Boss. It's $385 at Nordstrom.Another pricey option that I love: this twill dress from Classiques Entier for $298, although the "cutaway bodice" may break that commandment of workwear: never show your bra straps. Pictured: "Hilja" Fit and Flare Dress
Like this feature? Check out other recent installments!