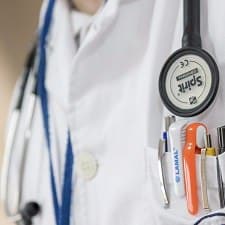 Reader A recently pulled through the trigger on a nose job (rhinoplasty) that she'd considered for a long time — and lucky us, she wrote in to share her experiences with us! Her post is largely about what you should know about rhinoplasty as an adult, but in general I think there's a broader Q that would make for a fascinating discussion with readers: Have YOU had any plastic surgery as an adult? Were you concerned with taking time off work for plastic surgery, discussing plastic surgery changes with your coworkers, or just general expense/recovery/risk issues? In particular, have you ever considered getting a cosmetic rhinoplasty? (Those of you who HAVE had a rhinoplasty for cosmetic reasons, please weigh in!) Optional surgery isn't something we've talked about a lot, but in the past we've discussed breast reduction surgery, freezing your eggs, and making time for many doctors appointments (and I know there have been a zillion reader threads on weight loss surgery and more!). HUGE thanks to Reader A for sharing her experiences with us! – Kat
I used to be very self-conscious about my nose. It was too big for my face, the tip turned down a bit, and there was a significant bump on the bridge. Whenever my picture was taken, I always faced the camera head-on to try to make my nose look slightly better, although it didn't help much. At the end of 2016, I started seriously considering a rhinoplasty (AKA a nose job), and after a lot of online research and an appointment at my chosen plastic surgeon's office, I was really excited to schedule the procedure (so much so that I wasn't even that nervous about having the surgery itself, and the only surgery I'd had before was a C-section).
Now, five months out from surgery, I am thrilled with the results and wish I had done it years ago. My nose isn't the first thing you notice about my face anymore, I'm much more confident about how I look, and I actually like photos of myself. I offered to write a Corporette guest post on my experience, and here's some of my advice:
How do I find a good plastic surgeon?
Since people are typically pretty discreet about their plastic surgery procedures, you might find it hard to get a word-of-mouth recommendation from someone you know. Whether or not you do, try to choose a doctor who focuses on facial cosmetic surgery, and of course, pick one who's performed rhinoplasty many times. During my research, I found these sites helpful in finding potential plastic surgeons:
How much does rhinoplasty cost?
If you're getting rhinoplasty purely for cosmetic reasons like I did, i.e., not for breathing problems, don't expect your health insurance to cover a cent. The ASPS says the average patient pays $5,046, but that DOESN'T include the cost of anesthesia, use of the operating room facilities, and so on (see list below). RealSelf puts the U.S. average as $7,450 (for total cost), but note that bigger cities will be more expensive; for example, NYC's average is about $1,000 higher. You'll also need to pay for blood tests (to clear you for surgery) and prescriptions — in my case, Vicodin for pain (which I didn't end up using), Medrol (a steroid), Zofran (an anti-nausea drug for after surgery — also didn't use), and cephalexin (as a prophylactic antibiotic). Like me, you may not need all of the prescriptions, but you should fill them all and have them on hand in case. You'll probably also be charged for a consultation with a prospective doctor, but that amount may be applied to your surgery.
Here are my costs, which included the rhinoplasty itself and all pre-op and post-op appointments, as well as certain services in the affiliated med spa (a free skincare analysis and a lesson on using makeup to disguise post-surgery bruising). Full payment was due a few weeks before my surgery.
Doctor's fee: $5,400
Surgery center fee: $2,500
Anesthesia: $1,000
Total cost of rhinoplasty (including office visits): $8,900
Now, ideally, you'll have been saving up for this for months or even years — but I hadn't, because I ended up choosing to undergo rhinoplasty pretty soon after I made a decision. I don't advise that for others, but I was 100% sure of my decision and am an extremely impatient person! I paid for the surgery with a combination of a CareCredit card (my doctor allowed 18 months interest-free; other doctors' policies vary), a Chase "Slate" credit card that offered 0% APR on purchases in the first 15 months, some money from my savings, and $1,000 from my husband (thank you, Husband!). This might not sound like the smartest strategy (two credit cards?!), but just five months later, I owe just $2,000 out of the $8,900 (and I have several interest-free months left), so I'm feeling fine about my decision. NOTE: My doctor's office only allows patients to use CareCredit for the doctor's fee (#1 above), not the other costs, so be sure to ask about that if you're interested in CareCredit.
What does a rhinoplasty procedure involve?
Rhinoplasty takes two or three hours, and you will likely go home the same day. Before surgery, your doctor will tell you how to prepare; the instructions may say to avoid certain medications before the procedure, for example. (By the way, if you have any mental health condition, minor or not, and/or see a therapist, you may need your provider to give his/her approval for your surgery.) There are two kinds of rhinoplasty: open and closed. Open includes an external incision (it's at the bottom of your nose — here is a non-gory illustration), while closed only involves internal incisions. Your doctor will explain which is best for you. I was nervous about the anesthesia, and I did a lot of research on it, including reading doctors' (differing) opinions on RealSelf. Rather than general anesthesia, my doctor used IV sedation plus a local anesthetic, which meant I was completely "asleep" and couldn't move, but could still breathe on my own, i.e., no breathing tube was needed. Patients come out of IV sedation more quickly than general, and postoperative nausea is less likely, too. (I had none at all, thank goodness — I mean, imagine vomiting after surgery on your nose. *shudder*). Make sure that an anesthesiologist or nurse anesthetist will take care of the anesthesia side of things so that your surgeon will be able to concentrate on the procedure 100%.
What is rhinoplasty recovery like?
Your doctor will give you a detailed list of dos and don'ts for recovery, so follow those carefully. My recovery really wasn't bad — basically lots of couch/Netflix time — and I didn't end up needing any prescription painkillers (or anti-nausea medication) because I never had severe pain, and in fact, not even moderate pain. (For other people's experiences, read RealSelf reviews and watch a few rhinoplasty YouTube videos that chronicle people's recoveries.) Recovery will probably be more uncomfortable than painful; for example, the night after surgery, I could only breathe through my mouth because of the packing material in my nose — it's like being really congested during a cold … but even worse. Some doctors don't use packing at all anymore, while others leave it in for a few days or so; mine removed it the day after surgery, fortunately. It was a big relief, even though my breathing was still pretty blocked (and would be for a while). Getting your sutures removed and internal splints pulled out in the days following your surgery is definitely unpleasant, and the latter feels very weird — but neither is unbearable.
Inconveniences during recovery included not being allowed to bend down, lift/carry heavy things, exercise, sneeze, blow my nose, sleep without my head elevated, etc., all for various lengths of time. I had a cast/splint that was applied with tape and adhesive, and I couldn't get it wet for the week it was on, but I managed to carefully take two or three showers by securely taping a cut-open clear plastic bag to my face with micropore! (You could also try dry shampoo.) Important note for glasses-wearers: You won't be allowed to wear glasses for three to six weeks because your nose needs to be left alone, so be prepared with contacts or else endure taping your glasses to your forehead (ooh, stylish) so that they don't rest on your nose. Months later, I'm still giving my nose frequent breaks from glasses because they leave indentations that make me nervous and I don't want to mess up my nose — I guess it's because there's still some swelling and that makes it noticeable. By the way, you will be using saline spray in your nose for quite a while to keep it dry and help your breathing a little bit, so stock up, and bring it to work!
How much time off work for plastic surgery will I have to take?
This will vary according to your bruising, swelling, etc., and also how you're feeling. I didn't have too much bruising, but some people end up with two huge black eyes. Your comfort level will figure into this, too — if you're pretty self-conscious in general (like me), you may need more time at home. Either way, you'll probably want to take off at least a week after surgery. Besides giving yourself time to rest and recover, remember that you'll most likely have a big cast on your nose.
When the doctor removes the cast about seven days after surgery, your nose will definitely be swollen (and very sensitive), and you'll probably still have a bit of undereye bruising. Try not to freak out and think, "Oh no, my nose is big and looks horrible!" because it will look very different as time goes on and the swelling subsides. People at work may not even notice. (For bruising, ask your doctor how soon you can wear makeup, and then experiment with concealer and color corrector.) When my cast came off, I also had some remnants of adhesive that I couldn't get off right away, and even some Sharpie marks from where the doctor marked up my nose right before surgery. Also, as you can imagine, my skin wasn't in great shape after a week of being covered up and never washed. (It still isn't 100% back to normal.) If you're really worried about coworkers finding out about your rhinoplasty, I would take one and a half or two weeks of vacation, not just one. (Hey, staycation!)
Ladies, let's hear from you: Have you had rhinoplasty, or other cosmetic surgery — or are you considering cosmetic surgery? If you've done so, how long did it take you to make the decision? How did you find your doctor? What was your recovery like? Were you hesitant about taking time off work for plastic surgery — and how did you handle coworkers' questions? Are you happy with the results? What advice would you give to other readers?
Pictures via Stencil.