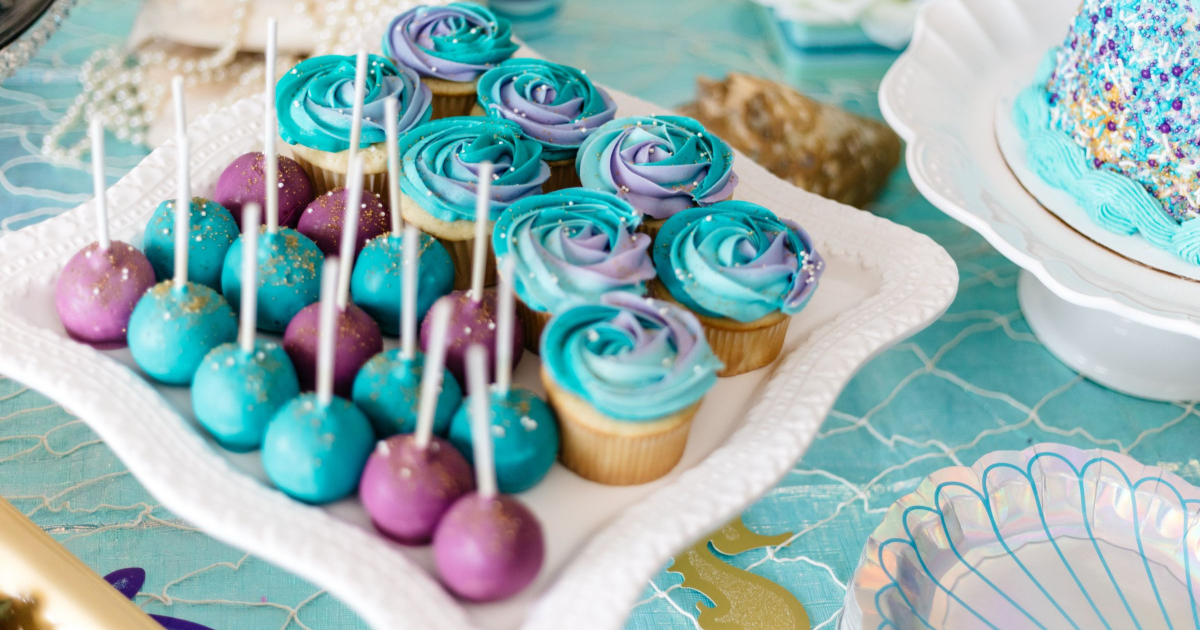 Reader H wrote in with a question: should a baby shower at the office include games, or just cake? What about wedding showers at the office? Here's her question…
I have a question about celebrating life events in the office – specifically throwing coworkers wedding showers and baby showers during work time. Should these events be limited to eating cake, or is it appropriate to play games? What kind of gift should you get your coworker? Should you throw baby showers for men whose wives are pregnant? Is being involved with the planning and decorating for these things a major NGDGTCO no-no? I don't know if you've ever addressed this on your blog – I couldn't find a post that dealt with it – and I would love to get your $.02.
I have to say, my knee jerked as a reaction to this question far more than it normally does. Decorations? Games? Are you kidding me? Maybe I'm overreacting, but the more I've thought about it the more it just seems wildly inappropriate on every possible level.
(Update: And numerous commenters disagree with me, with lots having celebrated baby showers with coworkers, at least during lunchtime or at the end of the day. Which I guess just goes to show you — know your office!)
As I begin this post, let's remember that the purpose of a wedding shower or baby shower is to "shower" the recipient with gifts. For a wedding shower, only those invited to the wedding should be invited to the shower; as far as I know anyone can be invited to the baby shower.
So right off the bat, let's knock wedding showers off the list unless literally everyone in the entire office is invited to the wedding.
(And in case you are having a wedding shower in the office:  please, no games — leave the toilet paper dresses for family and friends only, not coworkers!)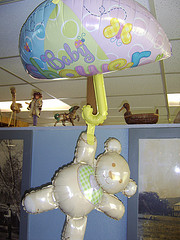 (Updated images (blue and pink cupcakes and cake pops) via Stencil. Originally pictured: Baby shower balloon, originally uploaded to Flickr by Maddy's Musings.)
I still think an elaborate baby shower, on work time, is inappropriate. Let me assume, first, that the reader didn't actually mean a "shower" — she surely cannot have meant that she wanted to impose the duty on multiple coworkers to each buy a gift to shower the pregnant coworker with, to require them to go out of their way and pull out their wallets to give something to this person who they work with, through no choice of their own.
So I'm assuming that Reader H meant a ceremonial "we all chipped in $5-$10 and got you a gift before you go on maternity leave" kind of situation. In which case it isn't properly a shower, but it's a sweet idea. Celebrating with cake or even sparkling apple cider makes it a nice treat for the entire office.
That said, if you're the boss throwing this sort of thing, it's only a "treat" if it doesn't distract from the actual work that people need to do there. So the shorter the better — the last thing you want to do is require people to work later (or rush through that day's tasks) because of your little party. Let people get their cake, eat it, chat for a while, congratulate the lucky coworker, and then slink back to their office to work. Anything that assumes coworkers will definitely be there for more than 10-30 minutes is way, way out of line, at least on company time.
All of this, of course, assumes that Reader H is the boss or this is established office policy, with celebrations for birthdays. If this is NOT the case, I would step away from the cake (and balloons and games), and assume that the shower is happening on everyone's own time.
Readers, what are your thoughts? Have you ever celebrated a baby shower at the office? What would you think if you were invited to one during work hours?