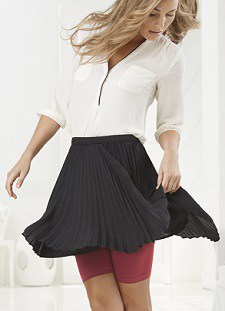 We've mentioned this product a lot over the years, but again, I don't think we've ever done a Coffee Break just to feature it. Readers here turned me on to it, and it's one of everyone's favorite things: the Jockey Slipshort.
Not feeling like wrenching yourself into Spanx (or don't need to)? Still want something to prevent chafing between your thighs, ensure against a Marilyn Monroe-on-the-subway-grate moment, and otherwise add a bit more modesty and anti-static to your summer skirts? (They can also be great if you bike to work!)
Let me introduce your new favorite thing, the Jockey slipshort. The old standard is the pictured product, Jockey's Skimmies — it also now comes in a shorts length, a "cooling" fabric, and an anti-wicking fabric, as well as a few more options. I've seen readers debate whether or not to wear underwear with them — you do you, but for my $.02 I am strongly on Team "Wear Underwear With Your Tights, Pantyhose, and Slipshorts."
Ladies, what is your favorite in the slipshort line? They're available at stores like Amazon, Zappos, and more for $9-$20. I usually like mine black, but 6PM does have a red pair similar to the pictured pair for $9.99 in sizes S-2XL. Jockey Skimmies Slipshorts
This post contains affiliate links and Corporette® may earn commissions for purchases made through links in this post. For more details see here. Thank you so much for your support!
We are a participant in the Amazon Services LLC Associates Program, an affiliate advertising program designed to provide a means for us to earn fees by linking to Amazon.com and affiliated sites.
Update: We're adding these shorts our Workwear Hall of Fame because they are still beloved by the readers and coming out in more colorways and styles, including recently a wide range of nude-for-you colors.