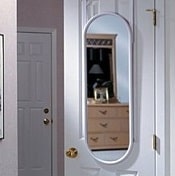 Are mirrors too girly to have in your office? Which mirrors are best for the office? Reader A wonders…
I am six-months into my first post-school job and am (as per your advice) slowly decorating my office. I'd really like to have a mirror in my office to check my makeup before meetings, etc. But, I don't want to look vain.

I work for the state and have what can only be describer as a cube-pretending-to-be-an-office (a large cube with a door). Any tips on mirrors that are decorative but not over the top, and won't break the bank?
Fabulous question, Reader A! We've talked about the mirror trick for interviews, how to liven up your office walls, and how to bring furniture into the office, but we haven't specifically talked about mirrors in the office.  I'm curious to hear what the readers say here, because I have one very specific experience that has completely set my thinking on this issue. Here's the story: when I was a very new first-year associate, I went to the office of a male associate a few years older than me to get an assignment. We closed the door at some point and, as I went to leave his office, I realized with some shock that he had a full-length mirror propped up behind his door, just leaning against the wall. (I suppose it was "with some shock" because this particular associate was such a guy's guy, and I would have been so worried that a mirror would make me appear too girly that I never even considered one for my burgeoning office.) THIS IS BRILLIANT, I thought — he could check for wardrobe malfunctions (or, ahem, barn door issues), check for spinach in his teeth, etc. I bought a $10 mirror at Bed Bath & Beyond the next weekend, and never looked back. (And that male associate went on to great things, so his career was in no way limited by his mirror.  Instead, perhaps his career was aided by the lack of spinach in his teeth.)
So, for my $.02: if you have a door and a wall, lean the mirror against the wall behind the door — no one will see it unless they're leaving your room after a closed-door meeting. I suspect the kind of mirror I'm talking about isn't sold online — I swear I've seen them recently in huge stores like BB&B, Ikea, Target, and Walmart for not much more than $10, but perhaps it's more common in fall when droves of kids are preparing their dorm rooms.  That said, for those of you (like me) who prefer to do most of your shopping online, there are many $40 mirrors available for sale online, including this nice over-the-door mirror pictured above (available at Amazon for $39.99 + $13 shipping).

Readers, what do you think? Are mirrors too girly (or vain) for the office? Should you get a more decorative mirror? Have you noticed mirrors in your coworkers offices?
(L-2)