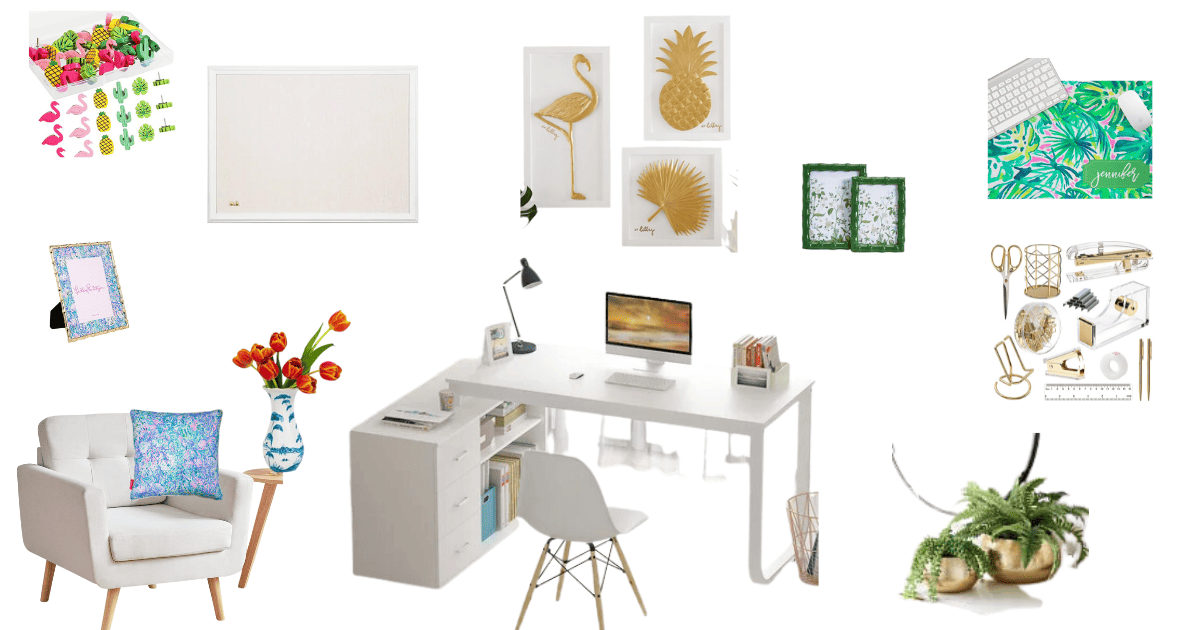 I thought I'd try a new series: how to design an office, in different decorating styles. First up: how to design a preppy-inspired office.
Do you have (or want) a preppy-inspired office? If you have a very preppy style yourself, how do you think that personality shows in your office? Whether you're hybrid, remote, or in-office full time, how have you designed your space?
I had a lot of fun putting together this inspiration board, which admittedly leans heavily on some Lilly Pulitzer stuff.
All of the products are linked below the image!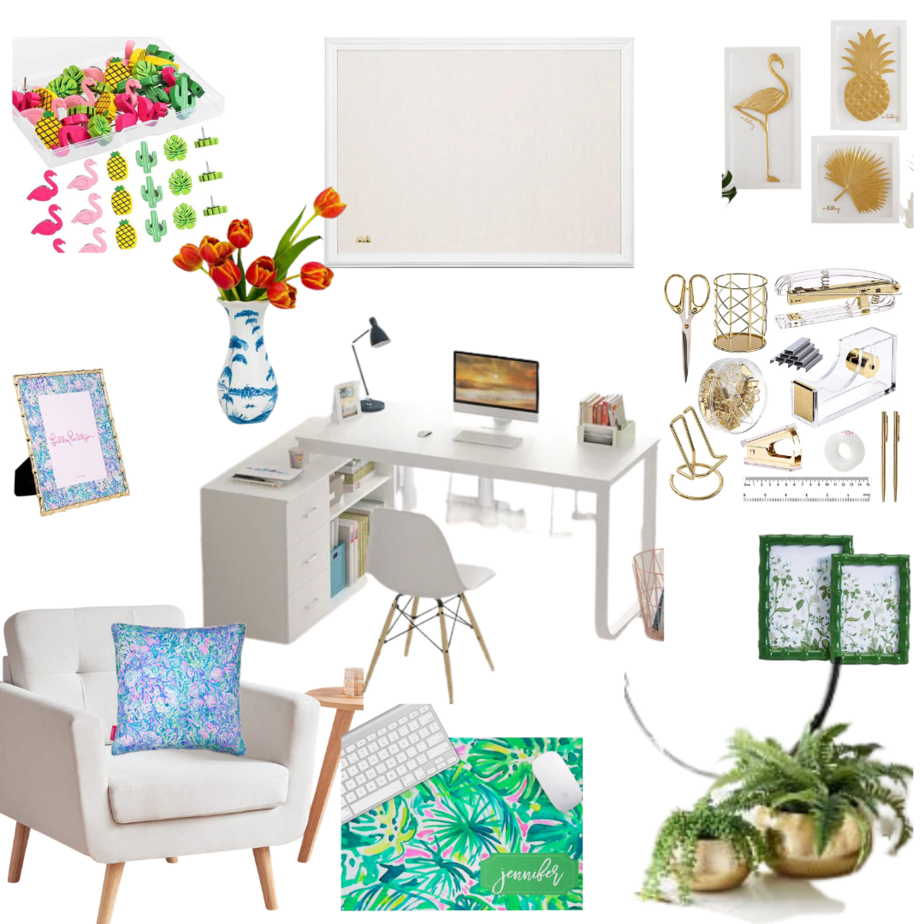 We are a participant in the Amazon Services LLC Associates Program, an affiliate advertising program designed to provide a means for us to earn fees by linking to Amazon.com and affiliated sites.
This post contains affiliate links and Corporette® may earn commissions for purchases made through links in this post. For more details see here. Thank you so much for your support!
How to Get a Preppy-Inspired Office If You Work In a Cubicle or Shared Space
I think the trick is going to be picking a few pieces that make you happy but don't overwhelm the space. For me this would mean maybe getting one of the custom, Lilly-inspired mouse mats, some blingy gold office supplies, and maybe some fun pushpins for your office bulletin board.

How to Get a Preppy Inspired Office If You Work in a Law Firm Or Other Conservative Space
Your biggest hurdle here is going to be overcoming the "executive brown" furniture that you likely have in your office. I would start by making the space as light and airy as possible as possible, with as much white or beige as you can bring in — a white desk mat, an ivory or beige throw blanket on your visitor's chair(s), maybe even a white (ergonomic) chair for yourself if you can swing it. I might also try to stick to white-only binders where possible, all labeled with a consistent label, sticker, or font.
After you achieve a nice white or beige base, THEN you can add accents like a pillow with fun colors, a joyful picture frame or two, a beautiful flower vase (with real flowers, of COURSE).
On your side of the desk, you can get into more twee, fun things like colorful pushpins and more.

How to Get a Preppy-Inspired Home Office
The sky is the limit here, of course! I've seen a lot of offices painted with bold wall colors like hot pink, lime, bright yellow, or some combination thereof. You could also check out Spoonflower — there's such a wide selection of wallpapers there that there are definitely some preppy-ish designs. (For example!) (I believe Lilly Pulitzer previously made wallpapers, also, if you feel like doing a hunt.)
That said, now is the time you may want to check out Core Prepsters like Tory Burch, Martha Stewart, and Reese Witherspoon — I feel like a lot of their offices are still mostly neutral, light colors like white or beige, with fun, bright pops of color as accents. Bonus points, of course, if you can mix and match different prints (toile! stripes! floral!) on chairs, walls, and other designs.
(If you want some examples of interior designs with really sophisticated mixing and matching of different prints, Summer Thornton's Instagram is full of them — such as this, this, or this. Reese Witherspoon's designer, Mark Sikes, is also an expert at mixing and matching patterns — check out this, this, or this.)
Readers, what are your thoughts? Do you have (or want) a preppy-inspired office? If you personally have a very preppy style, how do you think that personality shows in your office?
Further reading: