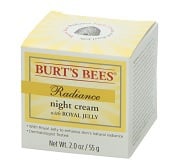 I thought my dry skin last year was pregnancy-related, but I'm finding that I really do need extra moisture on my face. I haven't yet taken the plunge on something serious like La Mer in part because I really like my affordable Burt's Bee's option. It's 99% natural, moisturizes with "Royal Jelly," which Amazon describes as thus: "Fed to the queen bee, Royal Jelly contains 8 essential amino acids, vitamins A, B1, B2, B6, C, D & E along with Niacin and Folic Acid. It is the reason she lives 40 times longer and is 50% bigger than worker bees." Alrighty then! A 2-oz. jar of Burt's Bees Radiance Night Cream with Royal Jelly is $14.59 (and even less with a Subscribe and Save order).
Ladies, what are your favorite products for dry winter skin?
Psst: see my other maternity skincare picks.