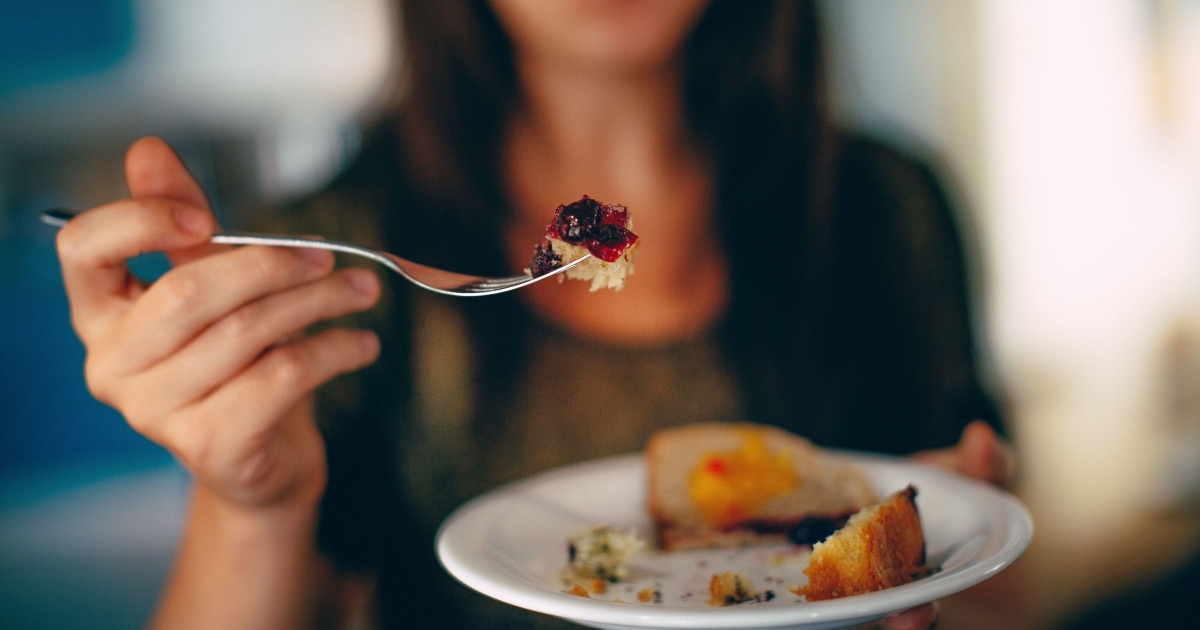 Are you guilty of stress eating at the office (or failing to eat because you're so stressed out)? Today's guest poster, Ruth More, tackles the issue. You can also read her other guest post on Corporette, on downsizing your budget after you cast off your golden handcuffs. – Kat

When I was a young associate, I was continually in a state of fear or trauma. As a result, I didn't really have the time or desire to make sure that I was eating healthily. To make matters worse, I still had a student mentality about saving money. I pretty much ended up subsisting on the little cups of cream that I would put in the free tea my office offered (I drank a lot of tea).
Over the years, I have seen many female associates who have difficult workloads put eating on the back burner. They start to have that sort of adrenaline rush that starved people have, the beady eyes, the cold aggressive handshake.
But later on, when I was a slightly more experienced lawyer, I dealt with stress and exhaustion the opposite way, by eating a lot! I remember when it first started, I would come home from work, sit on the couch, and calmly polish off an entire pint of Haagen Dazs. When SeamlessWeb came around, and we could order food from hundreds of different restaurants with the click of a mouse, I began to order extravagant, heavy, meals that I swore to myself would be divided into two smaller portions — one for next day's lunch– but I always ended up eating the whole thing, plus the free bread or fortune cookies.
Eventually, I realized that neither coping mechanism — eating very little or eating too much– was a healthy way to deal with stress. In this post, I share some tips and tricks for breaking the association between workplace stress and food:
1. Afternoon doldrums: snack with a friend.
I have never seen an office worker, male or female, walk so quickly to their office as when they've just picked up a delicious treat or meal. Nor have I ever heard an office door shut with as much urgency as when such an employee firmly closes the door to their office in order to be alone with their afternoon cupcake. I am just the same. Something strange happens when I eat by myself at work. A primal creature takes over and devours everything in a matter of seconds. Yet these torpid moments of private indulgence never really made me feel better afterwards. I'd just sit there with a, "What just happened," look on my face, and feel gross.
But instead, when I am feeling sluggish and need to snap out of it, if I find a friendly colleague and we both go down to the bodega and get a sleeve of chocolate chip cookies or a dense and syrupy piece of South Asian dessert, and eat it together while chatting about work or whatnot, it is much more pleasurable (and civil) than snacking alone, and I always feel genuinely refreshed afterwards.
2. Early morning after all-nighter: take a walk.
One morning after pulling an all-nighter with a team of associates, two of us decided to go downstairs to the Duane Reade together and buy some toothpaste and toothbrushes. That turned into a nice brisk walk around Bryant Park at 6 AM, which was super invigorating. Though my companion and I were practically strangers, we were able to chat about work and life and have a nice, energizing break before we went back into the office for another work full day of work. Normally after an all-nighter, prehaps taking a cue from the kind of all-niters I used to do, which were related to drinking and partying, I'd automatically reach for a greasy breakfast sandwich involving copious amounts of butter, egg, and cheese. Nothing wrong with those fine ingredients of course, but if you've pulled an all-nighter and need to work another full day, that is not the best food to wake up to.
3. Too stressed, no appetite: easily digestible carbs.
Sometimes when your stomach is full of butterflies, it feels like there is no room for food in there. And I know a lot of professional women who see a busy period where they are too preoccupied to eat as a godsend, a painfree and natural way to lose weight. But you need fuel to keep a body functioning and healthy. Plus, under-eating can lead to a pretty annoying pattern of fluctuating weight. The best way to sneak some food in there when you're not hungry is through juice and fruit, which I have found to be relatively palatable compared to other foods. If you can add a little fat in there by having a smoothie, then all the better! I'm obviously not a doctor or a nutritionist, but according to Traditional Chinese Medicine, rice is easier for the body to digest than bread and pasta, so that's another food to try if your adrenaline level is making it hard for you to eat.
4. Sit with the feeling.
It's very common to respond to strong emotions illogically. Sometimes over or under eating is a way to fill a void, dull a pain, or exercise control when you feel like you have none. A lot of times, I know that I am doing something unhealthy and pointless because I am trying to run away from an unpleasant feeling, such as anxiety, fear, or rejection. And even though there are a million tips floating on the internet on how to deal with your feelings, the truth is that a warm bath is not that different from a pint of ice cream if you are not learning to deal with the fact that you will have unpleasant feelings, but they can't bully you around if you don't let them.
5. Be connected to your body.
You can't just be a brain, you have a body too. Sometimes in the office, when your job demands nothing of you physically than to sit and move your finger tips, it can be easy to disconnect from your body. When this happens, it's easier to deny it food when you're hungry, or load it with food when it's full. One way to make sure you are grounded in your physicality is to be physical throughout the day. Not everyone has the luxury to go to the gym during office hours, but there are a ton of things you can do in the office, from taking off your shoes and sitting cross-legged on your chair, to doing deep breathing exercises, to givng yourself a shoulder massage, to raiding the cleaning closet and taking five minutes to spray down and wipe your desk and shelves, to taking the stairs instead of the elevator. One of my favorite things to do is to brush my teeth. The purpose of these activities is not to expend calories, but to reunite your brain with your body and remind your brain that no matter what happens at work, your body deserves to be fed regular, healthy meals on a regular basis.
What are your tips for breaking the food and workplace stress association?
2020 updated images via Stencil. Originally pictured: the author!