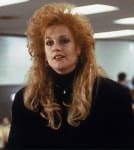 Ah, office jewelry… too much and you run the risk of looking like Tess, pre-makeover (from Working Girl). Today's reader mail:
I adore jewelry, and I can pull of a bit chunkier necklace, but I hate wearing earrings or bracelets at the office. Bracelets always end up hurting my arm when I'm writing, as my watch goes on my left wrist and I'm right handed, and earrings always poke into my head when I'm on the phone. I've gotten around it by wearing only necklaces, or taking my earrings off when on the phone much like the ladies on Designing Women, but I'd love a more modern suggestion, and to know what jewelry others are wearing!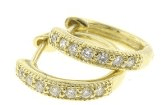 We totally agree — it can be tricky. For our $.02, we've mentioned our dislike of bracelets before: bangles are too noisy and distracting, and even tennis bracelets dig into our wrists while typing. As for earrings, we haaate, hate, hate wearing post earrings for precisely that reason. Our solution has been to wear earrings with what we believe is called a "European" back — far more comfortable! — but it can be hard to find ones that are small enough to be acceptable for the office that are nice yet reasonably priced. We end up wearing a lot of "huggie" earrings (like the ones pictured at right), which hug the earlobe. (At right: Perfect Huggie Hoops in Yellow Gold by Jude Frances, available at Amazon.com for $480.) We would argue that earrings that dangle farther than half an inch from your earlobe are a bit too distracting for work, but maybe that's us.
In terms of other jewelry, keep in mind that office jewelry should be about restraint — you want to garnish your outfit, not embellish. You might want to pick a few small pieces, like a ring, small earrings, and a watch or necklace. You might want to pick one big piece, like a very chunky necklace (or several necklaces for a layered effect) or a cocktail ring, to be worn with bare ears and wrist or very plain accessories.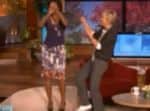 Another piece that we often mention is the brooch — they're not as "in" as they were a few years ago, when the trend was to layer several brooches on a sweater — but we do like the way one nice brooch looks on the lapel of a blazer or cardigan, or even as used to "close" a cardigan, a la Michelle Obama.
Readers, what do you think? What do you wear in terms of jewelry at the office?