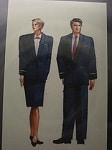 What makes outfits look dated? If you invest in a good working wardrobe, the idea is that it should last you for a long time — and it's disappointing when they immediately signify to other women "I bought this 5 years ago." So I thought a fun topic for discussion would be thus: what dates outfits? What are some of the worst offenders you've seen?  (Pictured: Man – check those shoulder pads!, originally uploaded to Flickr by wbaiv.)
Making my own list has proved more troublesome than I thought it would be. For my $.02, though:
– overly trendy things (such as the exposed zippers that are all the rage right now but will immediately date an outfit to the 2010-2011 time period, unless they stay in fashion
– cyclical fashions — for example right now a rounded toe is more popular, but pointy toes will come back into fashion eventually
– colors that no longer look good on you — for example, very bright colors tend to look best on younger women
– Anything you didn't see 5 years ago (e.g., the shootie) is likely to date itself
Here's another fun question: how can a woman buy quality pieces without buying the most boring things in the store? And how do you stay up to date on the latest silhouettes without becoming a slave to fashion? Ladies, when was the first time you realized you were wearing something that you should have retired a while ago?