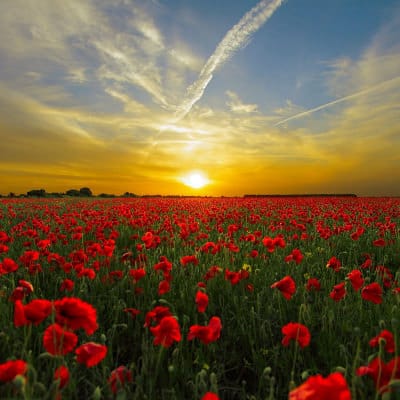 New Year's Resolutions: love 'em or hate 'em, everyone kind of makes them. You take stock of your life, you resolve to "be better"… what are your goals for 2012? What do you want to do better? (Picture above via Stencil. Pictured below: New Year Sunrise, originally uploaded to Flickr by joka2000.)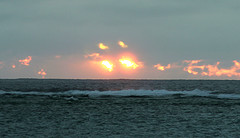 For me the answer to that question is to "get fit." I'm unfortunately at my highest weight ever after the baby, but what really bugs me is how much my muscles deteriorated — due to some pregnancy aches and pains I couldn't do much more than swim during the last 5 weeks of the pregnancy for cardio, and you're not supposed to exercise before 6 weeks postpartum… which took me more like 12 weeks because every time I started to exercise I felt so off I thought, "this can't possibly be right," and would make another doctor's appointment. Having now been cleared by my OB/gyn, my primary, and my podiatrist, I have no excuses left… so I've started Couch to 5K again.
And oh: it hurts. But I love, love, love this program. The first time I did it, in 2006 or so, I was pretty fit from DVD workouts, but was under the impression that I could never, ever run because my lungs just couldn't handle it. Someone suggested Couch to 5K, and I remember eyeing the program warily — it's basically just a 9-week schedule that tells you how much to run and how much to walk during 3 30-minute workouts a week. There is no way it could possibly be true, I thought. I will never run. But I did it — my lungs burned, and I remember coughing for hours after some of my runs, but I finally figured out how to breathe and run at the same time.
This time around, my lungs are fine — but it's my leg muscles that are killing me. After the first very mild workout, I tried to do 15 minutes of leg exercises in addition to the run — and the next day I could barely walk. Ouch. OK, lesson learned. But still: starting the program as someone who literally has been on the couch for far too long, I'm here to tell you: everything that the Plan asks of me, I've been able to do. I love the challenge of each workout… and I love the built-in impetus with the program, the mild fear that if I skip a few days or even a week that I'll be losing ground and have to repeat a week or two. I also love that it's only 30 minutes — perfect for busy women with no time.
Readers, what are your resolutions? Has anyone else done Couch to 5K, or do you have any other fitness goals?