2018 Update: We still stand by these busty women style tips, but if you're a busty professional, you may want to check out some of our other content, including our most recent roundup of the best lingerie to buy at Nordstrom.
One of our top posts of all time is one a friend suggested I write, back in the early days of the blog: how to dress professionally if you're busty. We haven't offered busty women style tips in a while, so I thought we'd discuss. But let me be clear at the outset: there's nothing inherently unprofessional about being busty — women come in all shapes and sizes. I'm not about to suggest you go buy a minimizer and try to pretend that you're a 34B. But: dressing well while busty can be a challenge because so many clothes are made with other body shapes in mind — and for work it can be particularly trying since so many conservative styles are rooted in menswear. Furthermore, if you wear something that obviously does not fit or has fit issues (gaping, pulling) it reflects a judgement call. So — here are some new tips and guidelines on how to dress for work if you're busty, from someone who's been everything from a 30F to a 38G over the years…
(Pictured: If you're petite and busty this is yet another reason to watch Crazy Ex Girlfriend — her work outfits are mostly hits for me. The video this screenshot is from is hilarious ("Heavy Boobs"), but it is probably NSFW.)
Finding the Right Bra is Half the Battle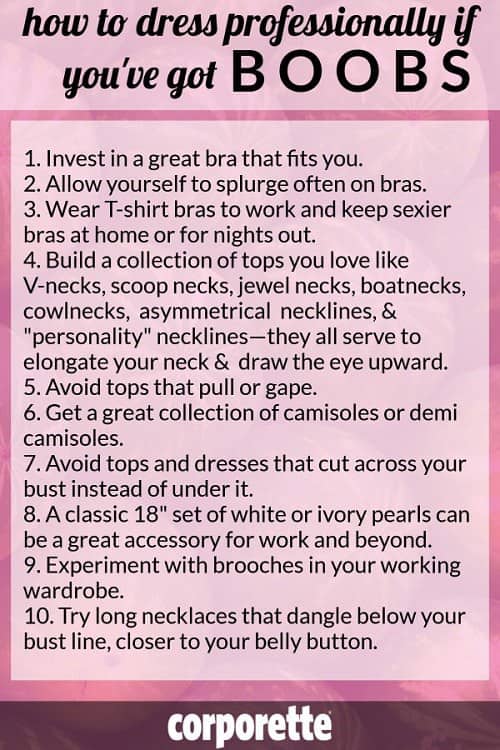 Invest in a great bra that fits you. The right bra will lift you up and support you. It will not give you quadboob. It may have an odd size that you've never even heard of before (28FF, for example). The right bra will not make you worry about falling out of it when you bend over. It will not cut into your shoulders (that's a sign your band size is too big) or fall off your shoulders. (Note that your straps can be shortened at the tailor — and that you can check out lingerie brands just for petites, like The Little Bra Company, Lula Lu, or even the Bare Necessities special section for petites). A good bra will take work to find and may cost you some money, but it will be worth it in spades. I highly recommend going to a bra shop and getting fitted — think Nordstrom, not Victoria's Secret (link goes to to one woman's fitting experience at VS with lots of pictures; probably NSFW). In NYC I've used Bratenders over the years and La Petite Coquette — I've also heard great things about Linda's Bra Shop — and in London I've been fitted at Rigby & Peller. Ladies who have a favorite shop in your city, please shout it out in the comments. Once you know your size you can watch for sales; I tend to get new bras at Nordstrom's sales, Bare Necessities sales, or even sometimes Amazon.
Allow yourself to splurge often on bras. Bras can be expensive, but as a foundational piece, particularly if you're busty, it's absolutely essential that your bras fit properly — over time bras can stretch out, to say nothing of weight fluctuations that may affect your bra size. We've talked before about bra upkeep, including when/how often/how to wash them.
Keep bedroom bras in the bedroom or for wearing beneath going out clothes. I used to have these amazing bras from Aubade — beautiful ones covered with lace and embroidery on the cups and the straps. The demi cups lifted me up so I was perky but bouncy. They were amazing… but totally inappropriate for work. I wore them anyway, and immediately regretted it if I was hurrying down the hallway without a folder to slap to my chest — and I've experienced that awful moment at work where you bend over to get something, and stand up and realize your bra did not make that trip as well as you'd have liked. If you can see the lace or design of your bra through your clothes (even opaque ones), if bounce is a factor you like in the bra — reconsider wearing that bra to work. Personally I'm a fan of the simple T-shirt bras from Fantasie (4510 has molded cups; the 4520 has unlined cups), they are admittedly super boring bras. (Wardrobe Oxygen also loves 'em!) Other styles I've heard lots of good things about: Le Mystere Dream Tisha, Freya Deco, Chantelle Intimates T-Shirt Bras (particularly the Rive Gauche bra). Personally I can't stand Wacoals, but this Wacoal Awareness bra is really highly rated. (I wept a little when I realized Wacoal bought the company that made Fantasie, which may explain why I can't stand the newer Fantasie Rebecca bra no matter how much I want to like it — if you love Wacoals you may want to give that bra a try.)
2020 Update: Looking for the most comfortable bras for working from home? These are some of my favorites, as noted in our roundup of the most comfortable bras for working from home:

Pictured above: gray / black / white / navy / pink
Step Away from the Crewnecks
Accessorize Til You Drop… Kind Of
A classic 18″ set of white or ivory pearls can be a great accessory for work and beyond. Not only do the pearls reflect light back onto your face, they can artificially raise the neckline, and if you're still feeling va-va-va-voom in any particular work outfit, pearls can help "stodge" up an outfit.
Experiment with brooches in your working wardrobe. As mentioned above, brooch placed high-ish on your clavicle can be great with a turtleneck, as well as some sheath dresses. I got most of my collection from DC flea markets, and you can find a ton of great ones on eBay.
Try long necklaces that below your bust line, closer to your belly button. Put another way: Be wary of necklaces that hit you mid-boob. Not only are they not the most flattering (I cringed every time I saw Joan and her pendant on Mad Men!), but they can be noisy if you wear multiples, clatter as you walk down the hall, and generally serve to only emphasize your bust.
Other Busty Style Tips
While not all workwear-related, here are a few other tips that may be helpful to busty women:
Further reading:
Like this article? Please feel free to Pin it or otherwise share it with your friends.