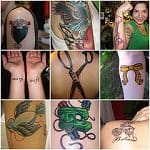 Update: We still think this is a really interesting discussion on visible tattoos for professional women — but you may want to check out our more recent discussion on tattoos in the workplace.
The other day we got an e-mail from a reader, wondering if visible tattoos are ever appropriate for professional women:
I have a question about tattoos. I'm thinking of getting a new tattoo on my inner ankle, and I'm wondering what you/your readers think about what is appropriate for the office in terms of tattoos.

In terms of placement, if I was wearing a skirt and heels the tattoo would be uncovered where I'm thinking of getting it (inside of the ankle, right above the ankle bone that sticks out). But it would be a small (.5 in. x 1 in.), black, abstract design – nothing flashy. And it would be on the inner ankle, so not as obvious.
Do you think this is appropriate, or is any tattoo that's visible at work inappropriate? Really: are visible tattoos ever appropriate for professional women? If small tattoos are appropriate, is there any kind of consensus on when it becomes big enough that it's inappropriate?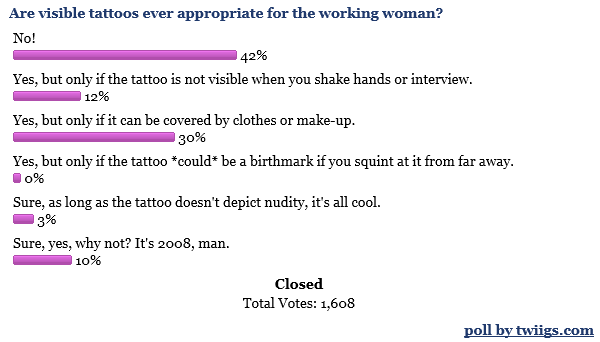 Excellent question. We've often thought about whether tattoos are appropriate for the working woman, and whether our friend who got a huge tattoo on her calf when she turned 18 (seriously, HUGE) has been at all limited in her career options.
Psst: if you're looking for body makeup, these are some of our favorites as of 2022…

We are a participant in the Amazon Services LLC Associates Program, an affiliate advertising program designed to provide a means for us to earn fees by linking to Amazon.com and affiliated sites.
For our $.02, it seems to us that a small, tasteful tattoo on your inner ankle is the limit to which a visible tattoo would be appropriate — anything on your hand is certainly out (unless it's a wedding band tattoo or something like that), as is anything on a part of your leg or arm that would be visible.
Readers, what say you – are visible tattoos for professional women ever appropriate?
Another $.02: those are some beautiful tattoos from the Flickr sewing tattoos group. Flickr sewing tattoos group,originally uploaded by SwanDiamondRose