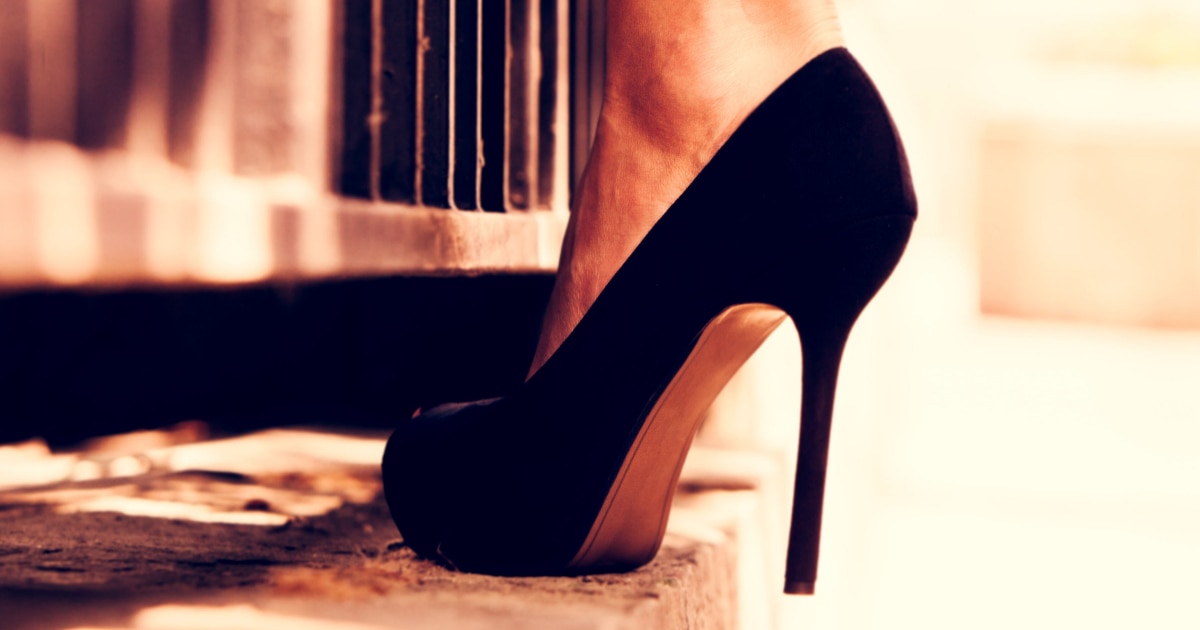 Our readers are thinking along similar lines, because a second reader wrote in to wonder if there is a limit on how high a shoe can be before it's unacceptable for work.
I recently bought some shoes, including these (pictured) (3″ black patent with tweed edging–for $30, I figured why not). When I tried them on, my husband remarked that they were "awfully tall," and after initially thinking they would be a nice edition to my shoe collection, I began to wonder if they were not appropriate.

So I guess my question is: is there a heel height cutoff, past which one should not go? I'm of average height (5'6″), and dress pretty conservatively at work (suits, pearls, the whole thing). I was planning on wearing these heels with pantsuits primarily to minimize the shiny tall heels aspect, but my husband's comment has me wondering if they are too much for even the plainest black suit. Is there consensus on this? Does it matter on other factors (such as how tall you are to begin with)?
Above: Naturalizer Marleigh Shoe, now on sale for $30 at Naturalizer.com.
These are some of our favorite heels as of 2022, but check out our entire Guide to Comfortable Heels!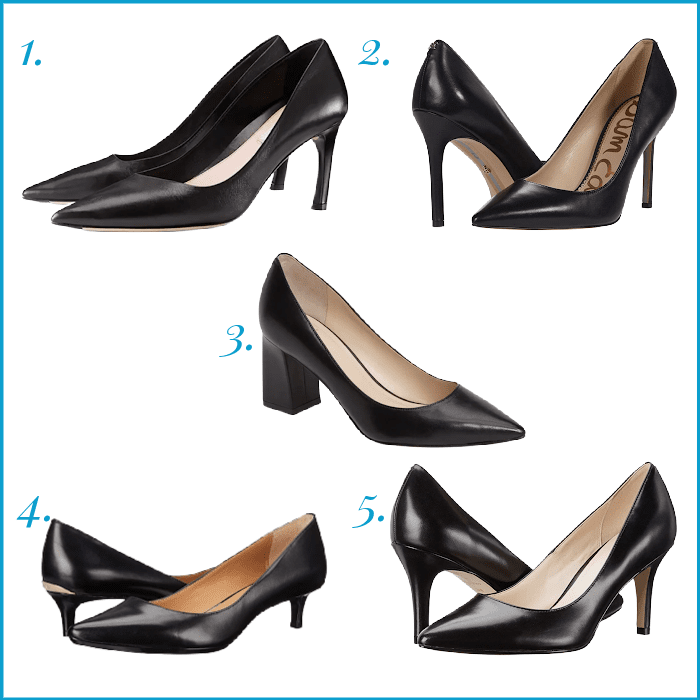 Pictured above, some of our favorite black heels for the office: one / two / three / four / five
On this question, we really have no idea, so we thought we'd do a poll. For our $.02: anything over 3″ or 3.5″ seems a bit gauche to us — a bit along the lines of "are you practicing law or dancing on a table?"
The big platforms that are frequently used to balance a 5″ or 6″ heel just seem unprofessional and almost teenagelike. We might make an exception if you're either very short (under 5'2″ or so) and need higher heels to seem like you're "sitting at the big kids table," or if you're very tall and want to totally own your height — that's a power move, one meant to intimate the men and women around you (in a great passive aggressive way — we might save that kind of move for when you're actually making a power play, though: supervising a new group of people, for example).
We have two big caveats for heels of ANY height, though:
you MUST be able to walk in them. If you can't stride gracefully, it doesn't matter if you're wearing 1″ or 5″, people are going to judge you poorly.
if you're wearing them with pants you must wear your hem at an appropriate length — in most cases it should brush the top part of your foot and almost entirely cover your shoe's heel, with only about an inch or so of space between the bottom of your pants and the top of the floor.
But enough of our $.02 — what do readers think? Please weigh in with more thoughts in comments. Does it matter if you wear high heels with pants or a skirt? Where does a 5'6″ woman stand on the high heel continuum (if anyone beyond us acknowledges that)…